Lowrie/ Lester Update No. 5


OK, so it is update day today after Jon Lester's start last night in Ottawa. Just a note- as you'll notice from an entry I put in last night, I did an April roundup for our four active minor league teams. Just performance of players, however. Check it out below if you'd like to delve a bit more than just Lester/ Lowrie.

JED LOWRIE | 2B/ SS | B:S T:R | 22 YO | HI-A WILM.

_____________BA_______OBP______SLG_______HR_______BB_______SO______SB
2006_______.227______.310_____.307________0_______10_______15_______2

Not much performance wise to report here that's different from the last. Jed still has had trouble driving the ball, and isn't really getting on base much. A positive- he struck out only once since the last update, and had a great game on April 28th against Winston-Salem where he went 2-for-3 with 2 2Bs and a run scored.

He's still not walking much, though, and his defense has been really poor. Two more errors (in one game) since the last update leaves him with 9 in 23 games played. It's very possible Jed's got some nagging injury he's playing through- as last night's game story from Delaware Online mentions, he left the game in the 10th last night.


Rocks shortstop Jed Lowrie left in the 10th, apparently aggravating a sore hamstring in trying to make a play. Lowrie left Friday's game after a hard slide into second.


Here's a snippet of a feature (registration required) from Baseball America, courtesy of templeUsox from SoSH:


"He's been going in the hole and throwing out guys like (Myrtle Beach outfielder) Brandon Jones," Blue Rocks manager Chad Epperson said. "I know it's early and I'm probably more than a little bit biased, but to me, he's one of the most exciting players in this league."


From a scout, in the same article...


"Lowrie definitely profiles at the position," the scout said. "He's one of those guys that moves up a level and makes the big wigs go, 'God, this guy just does everything so easy--he just does it and does it.

"This kid's a lot better player than Pedroia. There's a lot of hype, a lot of 'Moneyball' in (Pedroia). This kid's got a chance to play and stay at shortstop. To me, that has a lot more value than the guy that's going to be an offensive second baseman. Lowrie is a much better athlete who can play the position and has some upside staying at shortstop. I'll take the guy who's athletic enough to figure things out."


Pedroia is a guy that scouts tend to get their noses out of joint over because he's not "toolsy" and has a bad body- but Pedroia's never had a struggle not directly linked to injury, and flew through the system. Lowrie's still got to prove it on the field. That said- a very fine writeup, and I don't think it's much different from what is the consensus on him as a player, which is promising.

Also, Jed has added a journal entry for April 27th. Here's a relevant response to what was mentioned in the above article:


On various websites prior to the '05 draft, I read that a lot of scouts had the same doubts about you that they had about another player in the Red Sox system, Dustin Pedroia. Will he hit with wood like he did in college? He's not a huge guy, so will his power disappear? So far, both of you guys have proved them wrong. Are you driven by all that skepticism? -- Andrew

Dustin and I were both Pac-10 players, so I was able to watch and play against him for two years. I am excited about the opportunity to play up the middle with Dustin in the future.

As far as the skepticism about me going into the draft, I try not to let it bother me. Scouts are paid to find the strengths and weaknesses of potential draft picks. It's not my job to prove anyone wrong, it's my job to play the game to the best of my ability, day in and day out. I love to play the game and that is what drives me, not the opportunity to prove scouts wrong.
---


JON LESTER | SP | B:L T:L | 22 YO | AAA PAW.

__________ERA______SO______BB______H______IP______HR
2006_____5.94______19______10_____16_____16.2______4

So, Jon Lester made his 5th start of the year last night in Ottawa against the Lynx.

His line: 5.0 IP, 3 H, 2 ER, 2 BB, 4 K, HR (81 pitches)

OUT DISTRIBUTION
GB: 8
FB: 3
SO: 4

The good news- Jon was in line for a win this time out, going the five innings and working his pitch count up to 81. His walks were manageable, allowing only 5
baserunners and striking out 4 out of 15 outs. His gb/ fb ratio was strong as well.

The not-as-great news- he wasn't dominating, and let a lot of hitters back into counts he got ahead in. He allowed another HR, and didn't get the win (though not exactly his fault).

Really though, this start wasn't perfect, but it was a strong step in the right direction. The PawSox eventually won on Dustin Pedroia's game winning single, but Lester didn't factor in the decision. Keeping the ball on the ground, improving command and finishing hitters off is what's going to start to have to happen for Lester- he's got a lot of time to work, however, being 22 and in AAA. He'll get there, I think.

Lester's next start appears to be May 6th in Rochester against the Red Wings, the Minnesota Twins AAA affiliate. Rochester features a number of good young hitters, including Jason Bartlett, Terry Tiffee, and Jason Kubel. Currently, their OPS leaders are OFs Andres Torres and Josh Rabe.


---

PREVIOUS UPDATES
Tuesday, April 4th
Friday, April 7th
Friday, April 14th
Wednesday, April 19th
Thursday, April 27th


Once again, prospect talk in the comments section is much appreciated. Also, if Lowrie fails to make more than two starts in the period between now and the next update (due to his injured ankle last night), I'm going to update Pedroia as his fill in, a la Lester-for-Buchholz.


---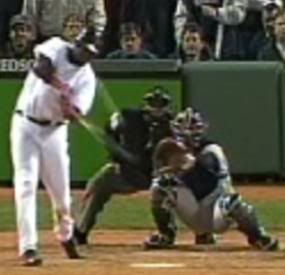 Just as a little perspective on last night's David Ortiz HR. Hittrackeronline.com calculated that the ball off Ortiz' bat in the 8th inning last night travelled 395 feet, at 120.7 MPH off the bat. They also have his wind impact being at -54: the second most adversarial wind conditions for a HR the entire season so far. The website lists the estimated distance given all the details of the actual angle, velocity, and apex of the ball off the bat- with no wind impediment- at 460 feet.

This also came on a frigid cold night where the best effort of a gaggle of HR hitters on both sides couldn't muscle the ball out. Against a LOOGY who throws from the 1B dugout, acquired especially just to get him and him alone out. In a big game. Again. He's superhuman. Myers threw him 2 sliders on the outside corner that he didn't do much with, and then after going full count on him with three straight fastballs, Myers inexplicably tried to dart an 81 MPH fastball over the inside corner... to David Ortiz. Effin ponderous. He hit that ball fucking hard.

That is light. Tower. Power.


______________________________

|