Media Guide Arrives!
I'm going to have a Lowrie/ Lester update tomorrow (after I can link/ quote game stories)- lots of drama, with a decent Lester, a Delmon Young meltdown, and a white knuckle 59 pitch count! Lowrie, on the other hand, is suffering from the BSMemorial positional prospect trackee curse. See also: Moss, Brandon.

No, I will not have much to say about tonight's game. Losses like these happen. Up against a tremendous team, on the road, facing their ace with our 3/ 4 starter. Big rubber game tomorrow, Paul Byrd (2-2, 9.15) against Josh Beckett (3-0, 2.54). I like our chances.

So, I got a nice little package from Yawkey Way today, receiving my Coco t-shirt (see? not bitter about Marte anymore) and 2006 Media Guide.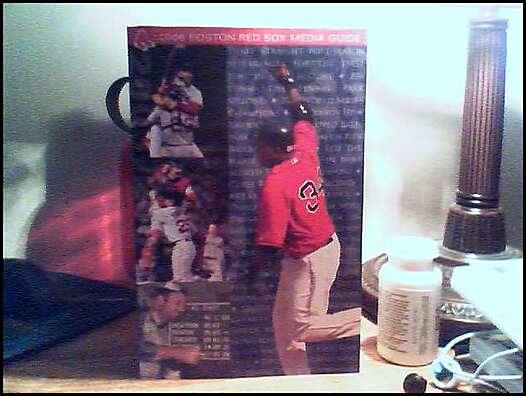 I've taken to collecting these fuckers, and I actually might go back and pick up a few from year past, cos the YawkeyWay site is selling 'em cheap- $5 a pop. Worth considering. Every year though, when I get it, I go look for Bill James at the front. Yup, still there. One of my all-time favorite writers/ people still works for my favorite team.

Also, always a favorite- the "Home Run Notes" from last year. Last year, the Red Sox had:

0 3 HR Games
17 2 HR Games
5 Back-to-back HR
11 Grand Slams (Club Record; Ramirez (3), Ortiz (2), Nixon, Mirabelli, Payton, Varitek, Renteria, Olerud)
4 Walk Off HRs (Millar 5/10, Varitek 5/11, Ortiz 6/2, Ortiz 9/6)
1 Pinch Hit HR (Mirabelli 10/2)
1 Inside the Park HR (Nixon 7/15)

OK, so one small dilemma. Since I have so many of those goddamn Sox player/ number shirts, I decided to get the more "gimmicky" Coco Crisp shirt- apparently they are offering a chocolate brown one, with "COCO" on the back. I thought it was a cool idea. I still pretty much do, but I'm not 100%.






I very well may have spelled "yuppie" wrong. Just vote, dickweed.


---
Boredom does crazy things to people, and following in this maxim, I took Erin's lead and started a myspace page at work yesterday. Needless to say I wasn't really interested in taking it all that seriously (nope, not really an Insane Clown Posse fan), but good times nonetheless. If you're looking for a friend for your page, I do not discriminate. The answer's always yes, friends. My "handle" is Richard 'Boner' Stabbone. MISTUH SEAVUH!!

Erin's is a lot more straightforward and less anti-social. Way to go E-rocka. Here's Mike's. Maybe I shouldn't be linking these. Oh well. I really gotta work on making mine a little funnier, at the very least. Something about referring to Veronica's Closet as a favorite TV show is more sad than funny.


---
Books picked up today for a grand total of six dollars...

What Happened in History, by Gordon Childe
Histories, by Tacitus
Cancer Ward, by Alexander Solzhenitsyn
The Hittites, by OR Gurney
Glory, by Vladimir Nabokov
The Hamlet, by William Faulkner
The Search for Amelia Earhart, by Fred Goerner

Not bad. The quality of stuff at my aforementioned NYPL Book Sale had waned recently, but I got a nice take today. Really looking forward to the Earhart book, too.


______________________________

|