WBC, Uni Watch...
Not much of a post, but it's worth mentioning-

I love the WBC more every day. It's so fun because, while on the one hand there's a lot at stake- I have a rooting interest (Domincan Republic), and I want them to win- it's not the same all-or-nothing, mood altering interest that the Red Sox seems to carry. In other words- it's just pure, blissful baseball. Nothing more. Plus, players all mixed up and on different teams, witnessing lineups like the Dominican one, pitching staffs like the Venezuelan one, defenses like the Korean one. Of course, there's also poor managing- how Luis Sojo and Buck Martinez have managed to guide Venezuela and the US, respectively, to results as mediocre as they've been is a mystery. At least in Venezuela's case, it appears to be a case of their running up against really solid competition and simply having slightly aberrant early-March results.

Buck Martinez, however, is an assclown of the largest possible magnitude. Seriously. Mark Teixeira hit seventh the other night. Vernon Wells has lead off games. Ken Griffey Jr., a guy not defensively good enough to play CF any longer, gets the position (hitting 3rd!), flanked on either side by superior defenders in Vernon Wells, Randy Winn, Johnny Damon (sore shoulder!), and Matt Holliday.

I gotta admit, after everything that happened in Boston- I thought it was cool seeing Byung Hyun Kim strike Vernon Wells out with the bases loaded last night,
preserving the lead. That was cool. Ditto that Franklin Rodney from the Dominican Republic- he of the epic hat-crookedness- striking out the final Cuban batter, representing the tying run with a 7-3 lead and the bases loaded. I saw that part at the gym, where the guy who maintains the cardio room was watching intently. After it ended, he looked at me with my DR hat on and said, "ya! We won!" Funny how 'we' means something different when talking about these games. I'm not 'we,' specifically, but I'm pulling for them hard.

And speaking of "epic"... there was David Ortiz's HR yesterday in the aforementioned game against Cuba. Ab-so-LOOOOOT-ley crushed. Clear out of Hiram Bithorn Stadium (which is a bandbox... but still). Very few ballplayers make me smile just watching them- and they're nearly all on the Dominican team. But when he slaughtered that pitch, and flipped his bat in the air and stared over to his teammates, then the Cuban catcher (who'd been giving the hitters shit all day, apparently), it was hard not to nod your ehad in appreciation. He's ours. Slick Vic Martinez's grand slam for Venezuela was nothing to sneeze at, either. So tonight at 7, the two teams that seem to me to be the best in the tournament will play for the right to advance. One of either Venezuela won't be around for the next round, which is a shame. I'll root for whichever moves on- but I'd rather it be the DR.


---


On that same subject, here's the newest entry from (maybe) the best column on ESPN.com's Page2- Uni Watch. The news is not good.


Let's start with the batting helmets. As you may recall, a new helmet design, featuring side vents and reptilian-looking molded crown, was unveiled during last year's All-Star Game. At the time, a Rawlings marketing manager gave Uni Watch a simple reason for the new design: "MLB doesn't allow outside logos on headwear, so this gives us the opportunity to kinda put our mark on the helmet without actually using the Rawlings logo."


The new helmet model, called the CoolFlo, wasn't seen again last year. But all MLB teams were given the option to wear it this season, and 11 clubs have chosen to be early adopters. Seven of those teams are already wearing the CoolFlo in spring training: the Cubs, Angels, Diamondbacks, Devil Rays, Orioles, Dodgers and Mets. The other four CoolFlo teams -- the Twins, A's, Braves and Padres -- are wearing regular helmets for now but will switch to the new model when the regular season starts.


Mets? Diamondbacks? Devil Rays? Orioles? I'd expect this from them. But LA- I'm really disappointed in you. Is it weird that this kind of thing gives me actual heartburn? Fucking Christ with this stuff. HELMETS WITH AIRHOLES IN THEM?!?! Un-fucking-real.

But seriously, read this column. It's unbelievably awesome (if you're gay and love talk about baseball uniforms).

Here's another WBC-related article that was an interesting read- the search for baseball's "bigfoot"- the gyroball.


---


Here's the autograph Patton was nice enough to sign for Erin this past Friday. Thought I'd throw it up here. He was seriously such a nice, genuine guy. And also, funny. Pretty funny.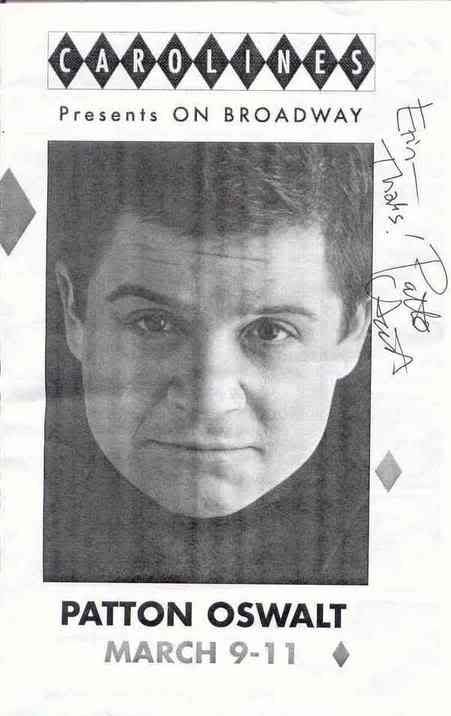 His phone number/ hotel room was discreetly put on the back, which I felt showed a great deal of class and discretion. I only noticed when Erin wandered off to the Grand Hyatt as we were moving towards the subway. A nice touch for a sensitive situation, I must say.

Also- big ups to Erin, who amidst dealing with her functionally retarded bosses, was able to find time to scan this bastard in for us all to see. Nice.


______________________________

|