Juan Gone, Sopranos, ARROYO FOR PENA TRADE...
In Red Sox news... Juan Gone Gonzalez has been signed to a one million dollar, minor league contract and invited to Spring Training camp. Interesting move.

Gonzalez has played 186 in the last four seasons combined, missing a possible 462 games due to injury over that time. Gonzalez struck a similar deal with the Indians last spring, and they ended up getting an 0-1 out of the deal, following his pulling a hamstring running to first.

So the phrase goes, "if he's healthy..." Well, I'm not even remotely banking on anything north of 75 ABs from him. Even that feels like a stretch to type. But when he can play, he does represent a good option as Trot Nixon's platoon partner and as an occasional spell for Ortiz at DH. If he does get on the roster, however, you have to do it with heavy roster insurance. So, in other words, if it appears he's healthy right off the bat, you can't let Dustan Mohr get away as a result.

To me, this seems like a short money gamble on some lightning in a bottle. There was not a distinct pressing need for Gonzalez (especially with word of some trades for OF being discussed- Wily Mo Pena, for instance)- so you'd have to imagine that his will be an uphill battle not to be cut loose at some point. Worth a look, I suppose.

He's a two time MVP (in '96 and '98, where he deserved neither over A-Rod and Nomar, respectively) who's only demonstrable MLB talent was extremely prodigious power. I think this is probably more of a waste of time than other like-minded Theo low-risk gambles, but we'll see. Interesting move regardless.


---
Even though I could nearly hear the groans as The Sopranos started in a dream sequence last night (and continued interspersed with Tony in the ICU throughout), I thought last night's episode was an all-timer. Unbelievably deep and pretty moving entry for the series.

I think the issue fan-wise has been a rift between two types of watchers of the show- those more interested in the nuts-and-bolts Mafia storylines, and those more interested in the way the show has always been presented- psychological, character-driven, and morally ambiguous. Last night was an episode with exactly NO Mob-flashy action scenes, and was entirely character-driven. It was brilliant.

Also, Edie Falco is a genius. That was like a clinic last night. I remember saying to Bill once that I thought Gandolfini and Falco were in the process (and this was like, 4 years ago) of giving the greatest performances ever on TV- and I definitely don't feel silly these years later thinking it. Unbelievable.

The dream sequence was intriguing because of what it may have said about Tony's state of mind while he lay there, ostensibly dying with a giant, crater-like incision wound in his stomach. Seeing himself then as a schlubby salesman- no thick accent, constantly dragging around bags like a poor schmuck, ever put upon- Tony goes to a conference, loses all his forms of identification, and instead picks up
the briefcase and wallet of someone else- Kevin Finnerty- by mistake. Now he can't enter the conference, can't get a hotel room, can't get on a plane to go home, and can't even buy himself dinner.

While the last famous Sopranos dream sequence seemed like a varied reflection on Tony's feelings of inadequacies and sense of entrapment (inability to use the gun on his old coach, the varied but constant movie references making him feel like he's part of a larger force he can't control, that he's destined to turn out a certain way, to behave a certain way), this dream sequence seemed to reflect more directly on his current state. All of a sudden Tony Soprano is a weak, deferring character that can't make anything right, and is totally powerless in his own situation. His accent is gone, the edge on his words are gone, and no one takes him seriously enough to want to accomodate him. He can't bully his way into the conference, he can't get the hotel concierge to give him a room, he can't bring himself to act on his impulses with the woman at the restaurant, and he can't retaliate on his own when the peaceful, kind monk slaps him in the face. Everything is the opposite, now- anyone can take advantage of Tony, and he's seemingly powerless to stop it ("he slapped me in the MOUTH.") where he'd have no problems normally. Tony is feeling completely powerless in his situation.

But there's also another current of thought that seems to be present- the sense of reflection in the entire series of Tony's mental imagery. This idea of a changed identity- even as 'Tony Soprano'- but more specifically, as he starts to become Kevin Finnerty. What would have happened, had he been someone else early in life? Would he have avoided this fate? Ultimately, it would seem, he doesn't think so-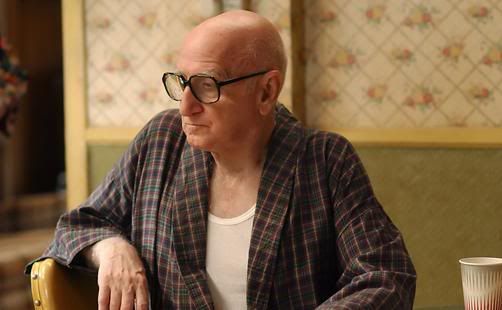 he's still distant from his kids (on the road), still cheating on his wife that he loves (or trying to, at least), and he still ends up with a death sentence of his own, with the diagnosis of Alzheimer's. It's almost that time worn adage, of "life flashing before [his] eyes," but in reverse.

Ultimately, I think the entire thing was much more complex than I'm allowing it to be there, but that's just as general observation. There seems to be a pretty pessimistic outlook on his eventual recovery, to me, throughout the sequence- his decision not to dial the phone towards the end of the episode, while at the same time Carmela wonders into his coma if he can hear her- his gazing longingly at the lighthouse light, which could be interpreted as being THE light. A week ago, ultimately I felt like Tony would survive. Now- and to what extent- I'm not as sure. Things look fairly grim. The doctors continually gave grim outlooks, and the idea of "brain damage" was repeated often. Ultimately, I was pretty struck by how emotionally involved I was in whether Tony survived. There was something about his staring at the lighthouse light that I found almost difficult to watch. I thought the entire scenario was done so perfectly, it made me realize how this show is simply operating at a level much higher than virtually any other on TV. There's never going to be anything else like this show.

Elsewhere, Silvio has taken control of family decision-making, something that, especially coming at Eugene Pontecorvo's funeral, is met with general acceptance. There is, however, with a power void, no way that stays as-is. There was a lot of in-fighting on who would have the privilege of doing the Soprano family favors- Vito
Spatafore and Paulie fought over who would take AJ home, and Paulie offered to buy a stereo for Tony's hotel room, while Christopher giddily informed him "no need for that, my friend." He'd already done it.

So it looks like there's going to be a full-fledged power struggle starting next week. Uncle Junior's probably going to a hospital, and while AJ promised he'd kill him for his Dad, it's hard to believe he'll actually do it. As of now, he's a deadbeat and a complete slimeball. He tries once in a blue moon- but most of the time, he's too lazy to take care of anyone but himself. It seemed to me a bit more something a frightened, grief stricken kid would say than a steely declaration for revenge. Who knows, though. They seem to be setting AJ up for more involvement this season, that's for sure. In addition, Junior seemed genuinely unaware that his nephew had been shot when questioned by police- but he also didn't seem to care ("if anyone shot him, it was himself- he's a depression case!").

Something also appears to be bubbling with Vito's homosexuality. He referenced it again this week (last week with the lone hot dog), speculating that maybe that's why Gene killed himself- "because he was a closet homo and didn't have anyone to talk to about it." In the scenes from next week, he appears to be hitting on the soon-to-arrive from dentist school Finn- the future Mr. Meadow (who saw Vito blowing the security guard last season).

And for last, I end with one of the great Paulie lines of the season so far- to the now long-haired AJ, beckoning him for a car ride home:

"Hey, Van Helsing- let's go..."


---
As I typed this, WEEI has confirmed that Bronson Arroyo has been traded to the Reds for OF Wily Mo Pena.

Wily is 24 years old with tremendous power and an ability to play all three OF positions. He, like Bronson, will be under Boston's control for the next three seasons. He is now the de facto Trot Nixon platoon partner (rendering Mohr tradeable- Philly was scouting him this weekend). Wily has very good success against LHP- with a three year split of .276/ .347/ .536/ .883- improving more or less in every season.

This is a smart move, mostly because Theo was able to acquire a power hitting 24 year old OF that can act as a platoon bridge for the current RF (while backing up Crisp in CF), and take over for Trot next year if he's not signed. Pena has about as much discipline at the plate as Bruce Vilanch,
but he's also young, and showed an ability to walk at about a league-average rate in the minor leagues.

It's pretty simple- Bronson Arroyo was a nice pitcher for us for a few years, but his value was (justifiably) plummeting, and with a surplus of pitchers, the time to act was soon. Getting someone like Wily Mo for a guy that could no longer get LHH out and who's K rate was very troubling was a good move. He'll be of very good value to a team like the Reds, who will have him for three years at a very good price. That said- it would be smart for Boston to re-bolster their SP depth a bit somewhere. There is still definite injury risk in Schilling/ Beckett/ Wells, and they'll likely need a warm body able to make some starts. Possibly a Mohr and prospect for Corey Lidle? Just a crazy thought. Still- I'm pretty excited about this deal.

So long, rock star.

One more note- Wily knows plate discipline is his ticket to being a better hitter and more power- witness these recent comments in an Ohio newspaper:


Pena said he can't wait for fans to witness the new, improved Wily Mo Pena, the one that developed this winter in the Dominican Republic Winter League.

"You'll see," he said. "Much different, much better. My swing is better. If I take the same approach I had in the D.R., everybody is going to see. More home runs. I was taking a lot of pitches, not swinging at bad pitches, getting my pitches to hit. And I was hitting balls all over the field."
...
During one turn in the batting cage Thursday, Pena took four straight pitches from Harang as Hall of Fame catcher Johnny Bench watched from behind.

"What is this, an eye test?" said Bench.

Pena walked out of the cage and said, "Last year I might have swung at all four of those pitches, which weren't good pitches. This year? Patience, my friend, patience."


If any of this is true and put directly into effect by Wily Mo, we could even have a breakout season on our hands. Fantastic deal.


______________________________

|