Bronson Arroyo's Not Walking Through That Door...
Sorry, I had to. My thoughts and prayers to long reliever grievers everywhere...

Anyway, the dawn of the Wily Mo era begins. Wearing #15. Dust off those Millar jerseys, boys...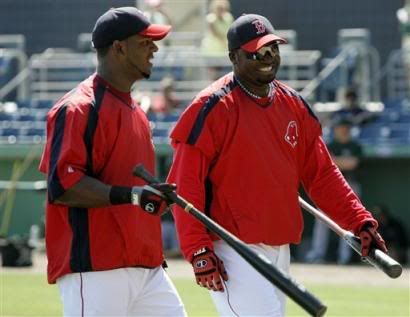 Also, from SoSH poster NDBoston:


This comes on e-mail from a guy in my fantasy league who writes occassionally for Baseball America and is currently in Florida for Spring Training.



I'm in Red Sox camp today and noticed a couple of things that make the trade seem pretty ominous for any Reds fan alive:

a. Willy Mo apparently feels pretty comfortable here already. Upon arriving with his big Reds duffle in tow, Pena got a great big hug from Ortiz, then proceeded to have some unbelievable bombs in BP. The
Sox' beat writers were aghast. I must say, so was I. He hit one over the scoreboard in center field, a shot no one here has ever seen.

b. Arroyo hates Cincinnati. He pretty much said as much off the record, although he sort of took it back later. Basically, he only wants to play for the Red Sox. Period. On the plus side, he did play with Larue in the Fall League.

This whole deal has an ugly feel to it.


Bronson basically said this to the media today- "But I've been there before. I'll go pitch for three years, become a free agent and see where I end up." He seems pretty upset/ bummed out. Wily seems right at home.


______________________________

|