Infectious Mononucleosis
So, I went home Friday night to give ailing Mike some company as he tore his way through every DVD known to man trying to beat mono. Turns out he wasn't just really bored, either.

I actually took Arrested Development home and introduced it to him- he'd never seen the show. Other than that- an exceptionally uneventful weekend. We did get Boston Market on Sunday night though, and I had Rawley's TWICE (local heaven-sent burger/ hot dog place). Just unbelievably taste-riffic. Also, we saw the episode of Flavor of Love where Pumkin spits on New York. That was eventful. Inspiring even.

I did, however, finish Lolita, which was even better the second time. Having seen Stanley Kubrick's film version as well, I can't help but picture James Mason's voice every time Humbert writes Lolita!. I even said it out loud in my best James Mason a couple of times. That was always fun. All joking aside though, Nabokov is definitely firmly entrenched in my James Joyce/ Hunter Thompson/ Bill James/ Allen Ginsberg/ David McCullough personal FAVORITE WRITERS pantheon. I can't wait to read Pale Fire.

So I reread Joyce's The Dead for kicks and I'm starting Heart of Darkness next. Should be excellent. I am also joining a gym today (Monday) in order to be less of a fatass. So that too should be mildly excellent.

Erin and I have decided to watch Ken Burns' Baseball on DVD to get ourselves pumped up for baseball and, let me tell you- it's worked so far. That is a great, great movie. Even Erin likes it.

That's really all I got. Pretty boring, I know...


---
Hardball Times recently published a great article detailing the best teams, historically, by position. The jumping off point, and as example, was the New York Yankee CFers. Mantle, DiMaggio, Williams, Earl Combs, Bobby Murcer, Rickey Henderson. The Yankees, without much argument, have the greatest CF history in all of baseball. Here's the list of the rest of the positions:

C- New York Yankees (Berra, Howard, Munson, Dickey, Posada)
1B- St. Louis Cardinals (Mize, Musial, Bottomley, McGwire, Hernandez, Clark, Pujols)
2B- Detroit Tigers (Gehringer, Whitaker, McAuliffe)
3B- Milwaukee/ Atlanta Braves (Mathews, Jones, Evans)
SS- Pittsburgh Pirates (Wagner, Vaughan)
RF- New York Yankees (Ruth, Maris, Jackson, Winfield, O'Neill)
LF- Boston Red Sox (Williams, Yastrzemski, Rice, Ramirez, Greenwell, Ruth)
CF- New York Yankees (Mantle, DiMaggio, Williams)

P- Boston Red Sox (Clemens, Martinez, Grove, Young)

What's interesting- something you realize when reading the methodology and see the results- is that the "winner" at each position didn't actually have a whole lot of competition. Each leader was the clear leader at every position.

Here's a great passage from the article:


Throughout my college years I put off watching the film Casablanca (co-written by Theo Epstein's grandfather) because it seemed silly to me; all the famous clips looked canned and corny. But when I saw the film I had a blast. It's one of Hollywood's enduring pleasures for a reason.

A couple years later my brother had the exact same experience with the movie—put if off for years, then discovered he loved it. So we coined the phrase "The Casablanca Effect" to describe anything that's as good as its reputation. Moby Dick, Abraham Lincoln and Percy Sledge's "When a Man Loves a Woman" are all examples of The Casablanca Effect. So are the Yankees' center fielders.


"The Casablanca Effect." That's good enough to steal. I wonder what a few more of those are? Citizen Kane. Fenway Park. "Exile on Main Street." Boy Meets World (kidding).

Anyway, the only one that sort of caught me on first viewing was, of course, the Red Sox having the best pitching, historically. When I thought about it, however, it stopped being even remotely surprising. Consider the following pitchers, who spent significant time with the Red Sox-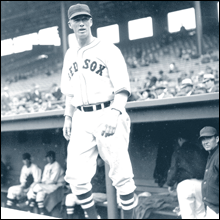 Roger Clemens (greatest SP of all time- peak years)
Pedro Martinez (most dominant SP of all time- peak years)
Lefty Grove (greatest LHP of all time- 2nd half of career)
Cy Young (All time wins leader- 2nd half of career)
Mel Parnell (dominant starter)
Ellis Kinder (dominant starter- peak seasons)
Smokey Joe Wood (dominant starter- peak seasons)

Effectively, Roger, Pedro and Lefty cinch it. I don't think any franchise has ever held three such historical starting pitchers for a significant amount of time. The closest any other franchise comes is the Braves, with Maddux, Spahn and Niekro. Niekro doesn't exactly match up to Clemens or Martinez, of course.

Most people, I'd assume, would guess the Dodgers pitching history would be right up there (Koufax, Drysdale, Nap Rucker, Don Sutton, Dazzy Vance, Johnny Podres)- but in fact, it ranks below Boston, the Braves (Maddux, Niekro, Spahn, Glavine, Smoltz) the Yankees (Ford, Gomez, Ruffing, Rivera, Guidry, Shawky, Spud Chandler), and the White Sox (Ted Lyons, Ed Walsh, Red Faber, Billy Pierce, Ed Ciccotte, Thornton Lee). The White Sox really threw me. I would have expected Cleveland (Feller, Lemon, Addie Joss, Mel Harder, Early Wynn) at least ahead of them.

It's a really fun exercise. Check it out.


---


Just a heads up- I'll be doing a "teams" thingy this week on the 1997 Atlanta Braves- the greatest pitching staff of all time.


______________________________

|