Here, There, Everywhere... and the '57 Braves...
So it's time for that offseason staple- the O'Reilly-esque Random Points Memo!! [[applause]] Everyone loves it, there's no denying that fact. Now it's a necklace.

I know it's been a while since I posted- I'm sorry. I really am. The moms was in the crib this weekend, and last night, I watched the primo Ben Franklin special on the History Channel (the Lincoln one from the night before was better). Now it's a necklace.


Me, my mom and Erin saw Match Point on Saturday on 42nd St. I really liked it a lot- I was sort of surprised though at how slowly it started, and how stulted and unnatural it all felt right out of the gate. It picked up really fast, however, buoyed by the multiple near-naked Scarlett Johansen shots. Well played, Wood-man.

That fucking apartment Rhys-Meyers' character moves into was unbelievable, if you've seen the movie. The one thing is, with all that light flooding in- where do you put the TV? If you put it by the window, you're staring into the sun watching TV most of the time. If you put it on the other wall, you may as well not watch TV during the day, because you'll get an impossible glare. So there's that to consider. I think they just left it in their bedroom- but I could never live with that.

I loved Ewan Bremner popping up at the end, and nice little ending that's certainly unexpected. I like Jonathan Rhys-Meyers I guess, but it takes a lot of work convincing me that he's a heterosexual in every movie I see him in (and not a lot of work to convince me otherwise- see Velvet Goldmine). It's not his fault- there's just something so feminine about his face, he just looks like a bender (heh- watched some of The Office this weekend).

Well worth it, however. Good movie, and the best Woody Allen in years (although I really enjoyed The Curse of the Jade Scorpion a lot, so keep that in mind).
I've been catching up on the current season of Arrested Development, thanks to our good friends at
Bittorrent. I'm doing this for two reasons- one, because the show is incredible and I want to see all the episodes. This much is obvious.

The other, more irrational reason is a vain attempt I'm making mentally that states "well, if I'm all caught up and ready to watch new episodes, it can't get cancelled, right?" Brilliant, I know. There have, however, been rumblings of Showtime or ABC picking the show up- we'll see. I just can't see a show this brilliant simply going away (even though I own physical evidence of this happening in my Freaks and Geeks one volume, comprehensive DVD set).

Watching the season three premiere last night- maybe the best episode in the show's run- it blows me away the amount of gags, jokes, references and set ups they can jam into one episode. Take, for example, when Michael enters the company offices after an incrimental success in the form of faint praise from a TV business analyst. He enters to a huge party and a sprawling MISSION ACCOMPLISHED banner- well done, right off the bat.

Then, Michael approaches Lindsay. She's flush with excitement, and claims to
Michael she's going to "spend some money." Michael objects immediately, knowing where she's going (paraphrasing):

M: Lindsay, you're not buying a car.
L: Yes I am Michael, and I've picked one out- here's a picture. It's a Volvo.
M: Hmmm... that's not a Volv-O.
L: Oh, whoops- that's from sitting on the copy machine (switches the papers in Michael's hand)
M: Boy, I'm glad we didn't spring for the color.
L: Michael, I think I should be able to buy a car...
M: You're right- I'm selling the cabin, and when I get back- I think you should buy it. So what do you think, you gonna go buy the Volvo?
L: Eh. It's too boxy.

Every scene is like that. You can watch repeatedly and pick up new jokes and gags. I especially liked the Michael line to George Michael- "why don't you go pitch a tent out front with your cousin Maeby?"

Can't decide if my favorite character is George Michael or GOB. It's a tough call.

COME ON!!
So today, MVP 2006 comes out for PS2- only, it's not the MVP we've gotten used to- supposedly, EA lost the rights to MLB, and as a result, they can't continue with their major league video game franchise. Sooooo, they've turned instead to the NCAA, and constructed a game around the college game, an idea that I think could
work really well. I will be purchasing this item, perhaps not today... but soon.

There are, of course, going to be competing MLB games- but I don't really think I'll buy another MLB game other than MVP. Mike and I have both tried so many, and have had them all suck so much dong- I'm sticking with the game that works, and I like.

I'm not editing that last paragraph because it might be the most retarded piece of writing I or anyone else have committed to... whatever the internet is. My God.

That said, this is really cool: MLB'06: The Show, featuring cover man David Ortiz. The best part of clicking on this article is the pictures. Our boy Papi got into one of those motion capture suits, and despite looking like a frogman with little lightbulbs attached to him... still manages to look cool. Unprecedented. Check out the pictures here- well worth it.

The bit in the interview when they make him mime his reaction to a bad strike call is priceless, too. He's got a lot of practice with that.


He takes another strike, inhales a deep breath and says "Count to ten" as he tries to calm down before cursing out the ump in his mind.
So I finished off Catch-22 (which I mysteriously had never read) pretty quick- it reads that way- and I'm on to the first volume of the Edmund Morris Teddy Roosevelt biography, The Rise of Theodore Roosevelt. The first volume alone is 800 pages. Awesome. I think I'm going to read this one, and then break it up with a few books in the middle before I chew on Theodore Rex, the second volume.

Anyway, so in his early years, "Teedie" was a really sickly kid. Am I wrong to feel like I read about that in great leaders/ artists/ figures a lot? Scorsese I know
was bedridden, as was Francis Coppola. I know there are more, but those are the only ones that immediately spring to mind.

What a nutty guy. There are stories about him filling the house as a kid with dead animal carcasses for biological study, his photographic memory (something that always interests me, for some reason). He was able to read, in one night, 300+ page texts and recite passages from them weeks later. That's fucking insane. He was also an actual scholar, writing, among many things (like 150,000+ surviving letters) definitive histories of a number of American events.

Also very cool- the book gives the address of his birthplace in Manhattan- 28 E 20th St. I'm-a hafta check that out. Also of interest- Teddie observed Lincoln's funeral procession from the window of his family's brownstone in Manhattan. His mother was Southern as well, and though her and his father Theodore Sr. parted ways on that subject of North vs. South, they never let it get between them. However, it was still a tense subject, and "legend has it" that she raised the Confederate flag outside their home one morning after a decisive Southern victory.

It's a really entertaining book though. More prose-y than Donald's Lincoln, which was pretty dry.
I didn't really intend on using the video feature of the iPod that much, but even still- when I saw the original Matt Foley sketch available on iTunes, I snatched that shit up lickety split. I just like having it near me, and available 24/7. One of the more perfect comedy sketches of all time.

Written by? You guessed it... Bob Odenkirk.
Well, everyone else is posting this, so I may as well too. It's officially an "internet thing."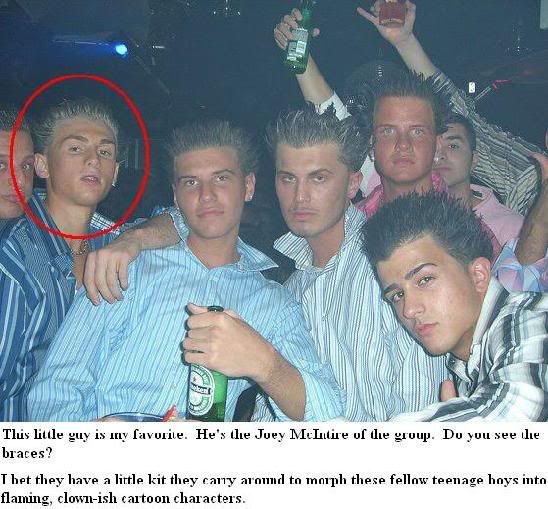 Of course, visiting the website (these pictures all came from the intense dude in the back with the pink shirt) dedicated to it is fun (LeeHotti.com), but I prefer the jackhole's myspace page. Beware- you could have a NASA-run supercomputer, and these myspace pages will still run your system into the ground. They're retarded.
New LOST tonight. Reck-a-nize. I'll have some shit on that tomorrow, no doubt.
---
I thought I did a lot more of these than I actually did. Weird. Anyway, as some of you may remember, I was in the habit of breaking down some great teams from the past for fun- looking at how they fared individually, the Hall of Famers on the roster, bit players that had huge seasons, etc. Thus far, I've looked at the 1968 Detroit Tigers, the 1993 Toronto Blue Jays, 1931 Philadelphia Athletics, and the 1994 Montreal Expos. Today, I'm going to look at the 1957 Milwaukee Braves.

The '57 Braves had, on their roster, four Hall of Famers- Hank Aaron, Eddie Mathews, Warren Spahn, and Red Schoendienst. Spahn is considered by many, along with Lefty Grove, Steve Carlton, Randy Johnson and Whitey Ford, as one of the greatest left handed starting pitchers of all time. Eddie Mathews was rated by Bill James in his Historical Baseball Abstract as the third greatest 3B of all time, behind only Mike Schmidt and George Brett. In the same book, Hank Aaron was named the second greatest RF of all time, behind only Babe Ruth. Schoendienst, while perhaps not entirely worthy of Hall of Fame selection, had one of his two greatest seasons in 1957 (the other being 1953 in St. Louis) after being acquired from the Giants for Danny O'Connell, Ray Crone and Bobby Thomson.

Going by OPS+, 1957 was Eddie Mathews sixth best season. At 25, he'd had three phenomenal years from 1953-55, when he put up OPS+s of 171, 172, 172. His 154 was bested only twice thereafter in his career, when he registered over 160 in 1959 and 1960.

Again by OPS+, Aaron had his eighth best season- and it was a 166. Aaron was 23 in 1957, and while, amazingly, his best year was his age 37 season (1971), his 44 HR that year was a career high for him, a total he didn't again reach until 1962. Aaron won his only MVP in '57 (he'd
finish top ten THIRTEEN times in his career), beating out Stan Musial, his teammate Schoendienst, and Willie Mays. Musial and Mays had better raw and adjusted OPS numbers. Mays probably deserved the award, but the point stands- 1957 made Hank Aaron a superstar.

Then there was Warren Spahn, winner that year- resoundingly- over Chicago's Dick Donovan for the Cy Young Award, his only such honor.

The pitching staff and positional roster for this Braves team were a study in interesting contrast. While the rotation boasted an average age of 30, the starting eight were an average age of 27.5- only Schoendienst (34) and LF Bill Bruton (31) were over 30. Mathews, Aaron, 1B Frank Torre and OF Wes Covington were all 25 and under.

Only two of the Braves starters that season- C Del Crandell and SS Johnny Logan- were below LEAGUE average offensively. However, Crandell had a 97 OPS+ and Logan a 98. They were premium offensive players at their position in that era. In fact, only Cincinatti's Ed Bailey, the Phillies' Stan Lopata and Pittsburgh's Ed Foiles had higher adjusted OPS than Crandell in the NL. Only Pittsburgh's Dick Groat bested Logan.

Other than this, Milwaukee was flush with tremendous offense not just throughout their lineup, but on the bench as well. Milwaukee lead the NL in runs, RPG, HR, SLG, team OPS+ (120!) and blew the league away where road RPG was concerned- scoring a staggering 5.97 away from County Stadium.

For instance, though Frank Torre was the starting 1B, and certainly posted a quality .272/ .339/ .393 line (adjusting for County Stadium, which was very much a pitcher's park, this just above league average)- he was largely in for his (perceived) superior defense, committing only 4 errors in 129 games, and for his left handed bat. However, Torre's platoon partner, Joe Adcock, had a tremendous 209 ABs for Milwaukee, turning in a .287/ .351/ .541 season with 12 HRs, production 43% better than league average (adjusted OPS).

Accordingly, as a LH OF option off the bench, Bob Hazle (coming in 4th for AL
ROY)was magnificent, scorching 7 HR in 134 ABs with a .403/ .477/ .649 line. Andy Pafko, Bobby Thomson, Del Rice, and Carl Sawatski all contributed above league average offense off the bench. This was an exceptionally deep offensive club.

Eddie Mathews, even considering Aaron, may have been the team's most valuable player. Playing Gold Glove level defense at 3B, Mathews walked 90 times in 1957, hitting 32 HR in a fairly drastic pitcher's park. He was the team's best all-around player that year- a great baserunner, brilliant defense, and a bright mix of patience and power at the plate.

So while Milwaukee dominated teams offensively in 1957, their pitching- especially in that home park- didn't have to be legendary to get them a pennant, but it was. Warren Spahn had a typically great season, posting a 21-11 record with a 2.69 ERA, 271 IP and a sparkling 1.17 WHIP. Spahn finished 18 games and had 4 shutouts, both leading the team and in the top two in the NL for both.

The interesting question may be, who was more valuable in that regular season? Eventual World Series MVP Lew Burdette, or 28 year old Bob Buhl? Let's take a look:

_______________IP_________ERA_______ERA+______WHIP_______SO
BURDETTE______256.2______3.72________94_______1.24_______78
BUHL__________216.3______2.74_______127_______1.44______117

It would immediately seem like Buhl is the obvious choice, but a couple things sort of jump out at me- Burdette's IP and Buhl's WHIP. Both tip dramatically in favor of Burdette, who appears to have possibly been just as good over 40 more IP, and simply a lot more unlucky.

Either way, the Braves' top three starters were incredible. Only Brooklyn- with Drysdale, Newcombe, Maglie and Podres (and a 21 year old Koufax throwing ~100 innings)- had a better staff. Milwaukee was second to Brooklyn in RA, ERA, and gave up the fewest HR in the league (aided by their home park, to be sure).

Their relief core wasn't great- they had a bullpen ace in Don McMahon, who, while only throwing 46.2 IP, had a sub-2 ERA and a 209 ERA+.
However, they did give ~200 IP to Juan Pizarro, Dave Jolly and Taylor Phillips, the three of whom squandered the opportunity fantastically.

The Braves went on to win the NL with 95 games and overcame the Yankees in the World Series in 7 games. The Yankees won two of the first three games, including Whitey Ford beating Warren Spahn 3-1 on two Yogi Berra HRs in Game One, and Buhl (and five other Braves pitchers) getting absolutely bludgeoned in Game Three, 12-3.

Game Four was a masterpiece- a ten inning game that Spahn went the distance in, where Milwaukee held a 4-1 lead entering the visiting 9th inning. With two out and none on, Spahn gave up singles to Berra and McDougald before surrendering a crushing 3-R HR to Elston Howard. The bottom of the lineup produced nothing for Milwaukee in the 9th, and when Hank Bauer tripled in Tony Kubek in the 10th inning, all appeared lost.

But after getting two on in the bottom of the tenth, Eddie Mathews hit a walkoff 3-R HR off Bob Grim to win it. Burdette threw shutouts in Games Five and Seven, and the Braves were champs.

What's startling to me is the breadth of achievement from this team- four Hall of Famers, an MVP (with three fellow teammates along with him in the top ten), a Cy Young, a World Series Championship, a World Series MVP, six All Stars (Aaron, Mathews, Spahn, Burdette, Logan, Schoendienst). A tremendous, tremendous team.


---


Finally, I leave you with this, on a car parked across the street from my apartment.




ENJOY!


______________________________

|