Whatif, '93 Jays, Ep. III...
So I finally broke down and shelled out a few bucks for a team on WhatifSports.com. For those not aware, it's fantasy baseball, but the pool of available players is every season for every player ever (more or less). So in other words, you can have the 1958 Mickey Mantle in CF, the 1983 Carney Lansford at 3B, and the 1977 Luis Tiant on the mound. You get a budget of (in the league I'm working with) $80 million dollars, and you do not get the benefit of "bargains"- the players are priced on their value for the season they had, which is the model by which they're given their simulation "ability." So while David Ortiz came cheap to the Red Sox in 2005, he won't in the game, as he'll be priced what he's worth.

Anyway- here's my roster. Where I couldn't afford offense, I went with defense, and where I couldn't afford low ERA/ high K rate, I went with IP. I think I did OK- but this was tougher than I thought it'd be.


3B- Ed McDonald (1912)


RF- Bruce Campbell (1934)


LF- Lance Berkman (2001)


CF- Ken Griffey, Jr (1997)


C- Charles Johnson (1995)


1B- Eric Karros (2000)


2B- Tommy Helms (1970)


SS- Ed Brinkman (1972)


P- Pedro Martinez (1998)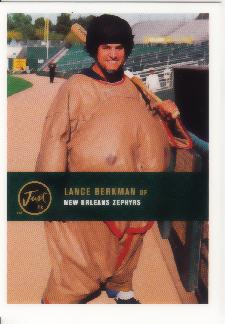 BENCH

C- Eli Marrero (1998)
1B- Tony Clark (2003)
CI- Cliff Cook (1960)
CI- Nick Cullop (1927)
OF- Dusty Rhodes (1953)
OF- Larvell Blanks (1979)
OF- Billy Conigliaro (1973)
OF- Tony Scott (1984)

PITCHING STAFF

SP- Pedro Martinez (1998)
SP- Jim Kaat (1971)
SP- Bert Blyleven (1979)
SP- Phil Niekro (1983)
SP/ RP- Adonis Terry (1894)
RP- Dan Quisenberry (1983)
RP- Dick Radatz (1962)
RP- Ken Chase (1943)
RP- Sparky Lyle (1968)


Now, one this is absolutely true- the bottom third of that lineup is an absolute abomination. YIKES. The last three hitters all have OBPs under .300 and SLGs under .375. But, they're Gold Glove fielders and I couldn't really afford much better. Oh well. I'll keep tinkering, I'm sure. I'm going with a nine man staff, but consider this- all five of my starting pitchers went 200+ innings. Kaat, Blyleven and Pedro were all over 230 IP. The kicker though, is that my four man bullpen averages 124.25 IP per pitcher. That's ~497 IP at a 3.01 ERA. I'll take it. In fact, Bill James once rated Dan Quisenberry's 1983 as one of the three most valuable relief seasons of all time, and put Radatz's 1963 in the top ten- Radatz' 1962 can be described as the "economy version."

We'll see how I do. I don't know how I could win games with that bottom third of the order, but it's hard to allocate money in this game paying specifically for what you get, instead of speculatively. It's like a market in a vacuum.


---
So after watching "5 Reasons You Can't Blame Mitch Williams for the 1993 World Series" (who does?), I had a thought a lot like I did after watching City on Fire about the '68 Tigers: god damn, that 1993 Toronto Blue Jays team was a great, great team. I remember that World Series really well- I was 12, and I was rooting for the Phillies really hard because I liked that they had beards and were dirty. That was the ultimate for me then (and, well, now). In fact, in one of those moments you live to regret years later, I decided John Kruk was my favorite Phillie. Ugh.

So when Sean McDonough called that last HR from Joe Carter, I was a little bummed. Usually when I would root for a non-Sox team, I'd form an irrational hatred for the other out of necessity- made it easier to get invested in the series. But looking back, that was a remarkably gifted team Pat Gillick put together- a strong offense, a brilliant defense, and a deep (if unspectacular) pitching staff that delivered when counted.

Without getting too much into the actual World Series, a couple things jumped out at me- first of all, the now legendary 15-14 "softball game" in Game 4. The Phillies had leads of 6-3, 12-7, 13-9, 14-9- but when Larry Andersen and Mitch Williams combined to surrender 6 runs in the 8th, Toronto never looks back, takes a 3-1 series lead. Schilling, of course, was flat out awesome in the Series, and in Game 5 in particular, throwing a CG shutout. Apparently too, Mitch Williams (and a few other Phillies) hate his frigging guts because they thought he showed Williams up by hiding his eyes when Williams pitched. Schilling said he did it unaware because he was "nervous," the other guys said it was part of a personality pattern.
Interesting nonetheless. From interviews with those guys... you can tell they weren't fond of him. Most of all Williams.

But enough about the Phillies. This was a great Blue Jays team.

TEAM LEADERS- OPS+

OLERUD_____185
MOLITOR____142
ALOMAR_____140
FERNANDEZ__114
CARTER_____111
WHITE______107

That's two-thirds of their starting lineup with an OPS+ over 100, including the league leader John Olerud (better than league MVP Frank Thomas) and Molitor/ Alomar, who were best at their positions in the AL by this rate that year. Even Tony Fernandez, with a career 101 OPS+, comes over in a trade with the Mets and puts up a 114 spot in 390 PA. The only starting regulars to come in under 100 were C Pat Borders, 3B Ed Sprague, and OF Turner Ward. Other notables:

HENDERSON_____82 (163 AB)
COLES_________84 (194 AB)
KNORR_________97 (101 AB)


Speaking of trades, Pat Gillick was a master before and during the '93 season. To wit:


12/8/92: Trades 3B Kelly Gruber to CA in exchange for IF Luis Sojo
25 year old Ed Sprague is promoted to full-time 3B, plays in 150 games- Gruber only 18. Sojo gets 47 ABs off the bench.
3/30/93: Trades OF Derek Bell to SDP in exchange for IF Darrin Jackson
Darrin Jackson would eventually net Gillick Tony Fernandez that June. Derek Bell had a .262 .303 .417 line with 21 HRs
6/11/93: Trades IF Darrin Jackson to NYM for SS Tony Fernandez
Jackson was hitting .216 .250 .347 for Toronto; hit .195 .211 .241 the rest of the way for NY. See above for Fernandez' Toronto work.
7/31/93: Trades RP Steve Karsay and mL Jose Herrera to OAK for OF Rickey Henderson
One of the more famous deadline deals of all time.

He also didn't fare too poorly in the Free Agent market. The team was obviously flush with cash after a Championship and a huge, packed new stadium. Check out these signings:

Paul Molitor
Dave Stewart
Joe Carter
Darnell Coles
Danny Cox
Alfredo Griffin
Mark Eichhorn

Plus, he had a draft that included Chris Carpenter and Adam Melhuse that summer. Brilliant.

The pitching staff for Toronto was a bit like Anaheim's in 2002, only better at the top end. In other words, these were teams that relied heavily on exceptional bullpens and solid innings-eating starters.


ERA+ TEAM LEADERS

SP
HENTGEN________113
GUZMAN_________110
STEWART_________99
STOTTLEMYRE_____90
MORRIS__________71

BULLPEN
WARD___________205
EICHHORN_______161
COX____________140
CASTILLO_______130
LEITER_________106
WILLIAMS_______100
TIMLIN__________93

No starter had fewer than 150 IP, all five of them contributing innings at the top of the game. The bullpen kept them in every contest, and did so while DOMINATING. Duane Ward was coming off an immensely valuable season in 1002 in which he threw 101.3 IP of 1.95 ERA relief. In '93 however, Ward was coming off 5 straight brilliant 100+ relief seasons. Instead of banking on it once again, Gillick was smart enough to go out and sign Cox and Eichhorn, who threw 156.1 IP at a combined ERA of 2.94- perfect planning. Jack Morris was pretty terrible with an ERA over 6, but as his tandem partner, Al Leiter was perfect, and any fires Morris seemed to start, Leiter was able to keep reasonable.

The Blue Jays had 7 All Stars- Joe Carter, Roberto Alomar, Paul Molitor, Pat Hentgen, Duane Ward, Devon White and of course, John Olerud. Three Blue Jays finished in the top ten in MVP voting- in fact, Molitor and Olerud were 2-3 (Olerud probably should have won the award), while Alomar was 6th (Joe Carter and Duane Ward also received votes).

Only Molitor received the 1993 Silver Slugger, even though Alomar and Olerud also had OPS+ numbers higher than the eventual winners (Baerga and Frank Thomas). The bigger "travesty" was the Gold Glove awards (what else is new), where only Devon
White and Roberto Alomar were awarded. Tony Fernandez was a great defensive SS, but he probably wasn't Vizquel's caliber at this point, and he only played half a season at the position in the AL. Pat Borders was pretty good, but not "best of all time" like Ivan Rodriguez. But John Olerud may be the greatest defensive 1B of all time- better maybe than Hal Chase, Vic Power, Keith Hernandez, Doug Mientkiewicz. Certainly better, as well, than the very good Don Mattingly, who won the award.

But this leads me to another point about this team- they were absolutely brilliant defensively. With the exception of Carter, Sprague and Turner Ward- they were one of the great defenses ever. Devon White and John Olerud are two of the greatest I've ever seen at their respective positions- White especially. You rarely saw White dive for a ball- he seemed always to be settling under nearly every ball. Of course, Alomar's defensive brilliance is well chronicled, and in '93, he was at the peak of his greatness there. Borders was excellent behind the plate, and Tony Fernandez was a lithe, rangey SS as well.

This was, of course, the year that Olerud made a run at .400, and he had to settle for .363, a batting title, 2nd in the MLB in OPS (to Bonds' 1.303) and 3rd in MVP voting. Paul Molitor had a ridiculous postseason and, specifically, World Series (he was the MVP) in which he hit .500 .571 1.000 with 2 HR, 2 3B and 8 RBI in 6 games. Rickey was not as good in Toronto as had been expected- .215 .356 .319 after the trade when he'd been .327 .469 .553 in Oakland before it. Nevertheless, he got on base in the playoffs, and certainly helped the top of their lineup by clogging up the basepaths.

This was an awesome team. Great way to end the Series too. Also, a little trivia- Shawn Green and Carlos Delgado both got their first ML ABs in 1993.


---
I got the Star Wars Episode III DVD in the mail yesterday, finally, and watched the extras last night. Something about Star Wars making-of documentaries that are much more fun to watch than most movies. This one took one minute of footage- the lightsaber duel between Obi Wan and Anakin on Mustafar- and broke it down completely in it's creation, all the way to the Kraft Services people. It was unreal the work that goes into a movie that is so heavily CGI- reliant. Even something as simple as keeping track of angle and perspective has to be an EXACT and precise science. The have guys who's sole job is to place and track X/ Y axis markers on the green screen backgrounds so that they have a record and source for the depth and angle to be used in the background. It's hard to anticipate when you're considering it how much has to be accounted for when you're using a green screen.

I could have done with more depth on the choreography of the fight scene though. That seems like a really interesting process, and immensely difficult to integrate.

The "Chosen One" documentary on Darth Vader was cool too. That's the best part about Episode III- at the absolute worst it's a concrete bridge to the next trilogy, and an entirely new way of looking at on old, iconic character. There's something about that that gets me every time.


---


NL Gold Gloves announced yesterday. Here are the winners, with my picks in parentheses:


C- Mike Matheny, SF (Yadier Molina, StL)
1B- Derrek Lee, CHC (Derrek Lee, CHC)
2B- Luis Castillo, FLA (Luis Castillo, FLA)
SS- Omar Vizquel, SF (Rafael Furcal, ATL)
3B- Mike Lowell, FLA (David Bell, PHI)
OF- Andruw Jones, ATL (Andruw Jones, ATL)
OF- Jim Edmonds, STL (Jim Edmonds, STL)
OF- Bobby Abreu, PHI (Brady Clark, MIL)
P- Greg Maddux, CHC (Greg Maddux, CHC)

These were, with the exception of SS and OF, some pretty good picks. I liked Yadier at catcher and his CS%, but if I recall correctly, Matheny had more Defensive Win Shares, so his getting it isn't a huge deal. 3B was a crapshoot with Rolen gone, and I honestly don't even know if Mike Lowell is good, great or horrible.

Lord knows I love Bobby Abreu, and I think he's good- but he is NOT a Gold Glover. No way. I picked Brady Clark, but there are at least 5 or 6 guys you could easily pick ahead of Bobby. What an odd choice.

The other annoying choice is Vizquel, who gets the "legacy" nod (as in, I'm not losing this award until I retire or die) over Rafael Furcal, who is a brilliant defender. Arguably the greatest infield arm in baseball, quick, a ton of range, fun to watch. He's a lot like Orlando Hudson.

Maddux won for the 15th straight time, one short of the record.


---
More steroid users this century than championships. Hoo-rah.
"I made a terrible and foolish mistake that I will regret for the rest of my life," Lawton said in a statement that he read over the telephone to The Associated Press. "I take full responsibility for my actions and did not appeal my suspension. I apologize to the fans, the game, my family and all those people that I let down. I am truly sorry and deeply regret my terrible lapse in judgment."

Lawton said the positive test occurred after he was acquired by the Yankees but did not answer other questions.


______________________________

|