FA Destination Predictions, Odds and Ends...
Here's my prediction list on this year's FA class. No, the Damon guess wasn't a joke. There's always a big ticket FA that goes to a dark horse. That's my pick.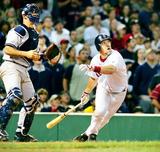 Ramon Hernandez- New York Mets
Bengie Molina- Los Angeles Angels
Mike Piazza- Oakland Athletics
Brad Ausmus- San Diego Padres
Paul Konerko- Chicago White Sox
Frank Thomas- Chicago White Sox
Erubiel Durazo- Los Angeles Angels
Rafael Palmiero- Retires
Kevin Millar- New York Mets
Doug Mientkiewicz- Kansas City Royals
Joe Randa- Cincinnati Reds
Bill Mueller- Minnesota Twins
Rafael Furcal- Chicago Cubs
Nomar Garciaparra- Los Angeles Dodgers

Alex Gonzalez- Atlanta Braves
Johnny Damon- Detroit Tigers
Hideki Matsui- New York Yankees
Brian Giles- St Louis Cardinals
Jacque Jones- Los Angeles Dodgers
Preston Wilson- San Francisco Giants
Reggie Sanders- Boston Red Sox
Jeromy Burnitz- Pittsburgh Pirates
Sammy Sosa- Retires
Richard Hidalgo- Colorado Rockies
AJ Burnett- Boston Red Sox
Kevin Millwood- Toronto Blue Jays
Roger Clemens- Houston Astros
Jeff Weaver- Baltimore Orioles
Matt Morris- New York Yankees
Jarrod Washburn- San Diego Padres
Esteban Loaiza- Cleveland Indians
Paul Byrd- Los Angeles Angels
Kenny Rogers- Chicago Cubs
Jamie Moyer- Seattle Mariners
Billy Wagner- Philadelphia Phillies
BJ Ryan- New York Mets
Trevor Hoffman- Florida Marlins
Tom Gordon- Boston Red Sox
Ugueth Urbina- Venezuela PD
Todd Jones- Los Angeles Dodgers
Kyle Farnsworth- New York Yankees
Braden Looper- Atlanta Braves

I'll update and refer back as names get re-assigned. For what it's worth, by this list, I have the Red Sox acquiring:

AJ Burnett
Tom Gordon
Reggie Sanders

and the Yankees acquiring/ resigning:

Hideki Matsui
Matt Morris
Kyle Farnsworth


---
A great article on the reclusive Bill Watterson, creator of Calvin and Hobbes, the single greatest comic strip of all time. Apparently ever since walking away completely from doing C&H, Watterson has really withdrawn completely from the public in every way. He just really, really loathes the attention and the baggage of fame. I think they did this article in conjunction with the release of The Complete Calvin and Hobbes, which I've seen in a few bookstores, and is really nice. I used to have a paperback copy of some selected strips, and I'd read them- no joke- constantly. All the time.

Here's an exerpt from the article. It's a standard profile, with the caveat that the writer sort of acknowledges he's "profiling" someone that seems to want to disappear completely.




So what's Watterson been up to since ending "Calvin and Hobbes?" It's tough to say.

His parents will say only that he's happy, but they won't say where he lives, and the cartoonist could not be reached for an interview.

His former editor, Lee Salem, also remains mum, saying only that as a painter Watterson started with watercolors and has evolved to oils.

"He's in a financial position where he doesn't need to meet the deadlines anymore," Salem says.

Watterson's parents respect -- but have no explanation for -- their son's extremely private nature. It doesn't run in the family.


Click here for daily Calvin and Hobbes.


---


This one's for Mike. Drunken lesbian cheerleader public sex arrests. I think I saw this one on Cinemax at age 15.


---


AL Awards
NL Awards

BP has voted and tallied on their MLB awards, and they're posted above. Here are their winners, as compared to mine.


BSMEMORIAL_______________________________________________________________BP


AL MVP

DAVID ORTIZ, BOS_________________________________________ALEX RODRIGUEZ, NYY


AL ROY

HUSTON STREET, OAK________________________________________HUSTON STREET, OAK


AL CYA

JOHAN SANTANA, MIN________________________________________JOHAN SANTANA, MIN


AL MOY

ERIC WEDGE, CLE___________________________________________OZZIE GUILLEN, CWS



NL MVP

ALBERT PUJOLS, STL________________________________________ALBERT PUJOLS, STL


NL ROY

RYAN HOWARD, PHI____________________________________________RYAN HOWARD, PHI


NL CYA

CHRIS CARPENTER, STL______________________________________ROGER CLEMENS, HOU


NL MOY

BOBBY COX, ATL________________________________________________BOBBY COX, ATL

In the NL MVP, we matched on seven players (Pujols, Lee, Jones, Bay, Cabrera, Wright, Ensberg). In the NL CY, we matched on 4 out of the top 5 (Clemens, Willis, Carpenter, Martinez- they had Pettitte, I had Oswalt). In the AL MVP, we matched on seven players out of ten (Ortiz, Rodriguez, Teixeira, Ramirez, Guerrero, Konerko, Hafner). In the AL CY, we matched on 4 out of the top 5 (Santana, Colon, Rivera, Buehrle- I, like a retard, put Tim Wakefield at FIFTH, which I'm still trying to figure out... in fact... I'm going back and changing that).

The BBWAA has already weighed in on the AL/NL ROY awards- naming Ryan Howard and Huston Street the winners.


______________________________

|