Gold Gloves, Silver Sluggers, Cold Blood and One Rock Head...
Gold Gloves

AL

C- Joe Mauer, MIN
1B- Mark Teixeira, TEX
2B- Orlando Hudson, TOR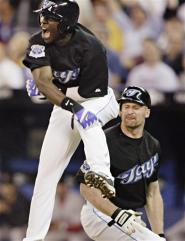 SS- Juan Uribe, CWS
3B- Eric Chavez, OAK
OF- Aaron Rowand, CWS
OF- Vernon Wells, TOR
OF- Ichiro Suzuki, SEA
P- Tim Wakefield, BOS

NL

C- Yadier Molina, STL
1B- Derrek Lee, CHC
2B- Luis Castillo, FLA
SS- Rafael Furcal, ATL
3B- David Bell, PHI
OF- Andruw Jones, ATL
OF- Jim Edmonds, STL
OF- Brady Clark, MIL
P- Greg Maddux, CHC

Silver Slugger

AL

C- Victor Martinez, CLE
1B- Mark Teixeira, TEX
2B- Brian Roberts, BAL

SS- Jhonny Peralta, CLE
3B- Alex Rodriguez, NYY
LF- Manny Ramirez, BOS
CF- Johnny Damon, BOS
RF- Vladimir Guerrero, LAA
DH- David Ortiz, BOS

NL

C- Michael Barrett, CHC
1B- Albert Pujols, STL
2B- Jeff Kent, LAD
SS- Felipe Lopez, CIN
3B- David Wright, NYM
LF- Miguel Cabrera, FLA
CF- Andruw Jones, ATL
RF- Jason Bay, PIT
P- Roger Clemens, HOU

I'm not really going to get too much into the Silver Sluggers because they're pretty clear cut- I will just say that a few guys got by on slightly inferior stats in pitcher's parks (Kent, Cabrera, Wright) where there may have been a better candidate raw-stats-wise. But I still think that's fair.

As for Gold Gloves- I went by Defensive Win Shares (because I can't access FRAA or FRAR on BP.com), a little RF/ ZR, Tangotiger's Fan Scouting Report, and a tiny bit of subjective observation.

There were a couple tough choices- for one, (since the GGs are given out by OF and not specific OF position) the decision between Mark Kotsay and Ichiro was really hard to me. I probably should have erred on the side of caution and numbers and gone with Kotsay, but I did consider that Suzuki was voted the Best Defensive Player in baseball by the Tango Fan Report, and Kotsay would have been the 3rd best defensive CFer this year, Ichiro was clearly the best corner OFer. So I let that factor in.

Mark Teixeira and Darin Erstad was a close call as well, so I went with what I saw as some increasingly limited mobility from Erstad as his knee worsens. Totally subjective observation, but they were close every other way. Also, I admittedly never know who to pick as a pitcher, so in the AL, I go with Wakefield because I see him a lot, and he's a fantastic defender of his position. Works for me.

In the NL, though I've always loved Brian Schneider and his defense, Yadier Molina's 64% caught stealing rate was jaw dropping. He was bunched in the top three in Defensive Win Shares as well, so that made it easy for me. I took Lee over Helton/ Overbay/ Pujols just because his past brilliance went unabated defensively and continued on this year. A lot of times, when there are a lot of great defensive 1B, the award can be like the Best Actor award at the Oscars- they're all really good, so you're just picking between the color of the different Porsches, basically (that's like three metaphors in one!).

Took David Bell in a weak 3B group in the NL with Rolen's injury absence, and in the AL- sorry Hawk!- it's Eric Chavez again. Still the best defensive 3B in baseball in my book.

Andruw Jones and Mark Teixeira are the only players to win both sides of the award (although Albert Pujols and Derrek Lee easily could have as well), and I've chosen Orlando Hudson as my defensive player of the year- here are my top five:


Orlando Hudson 2B, TOR


Joe Mauer C, MIN


Aaron Rowand CF, CWS


Yadier Molina C, STL


Rafael Furcal SS, ATL
---
Welcome to Yankeeland. You have a phenomenal season- you are the bright, shining reason that your team even sniffed the playoffs, a once-in-a-generation type player that every major league city from Pittsburgh to Kansas City to Seattle (don't kid yourself) would kill to call their own. You are the most valuable player in your league, you play hard every night, you don't do drugs, beat your wife, self-aggrandize on any microphone that comes into site (not directly anyway), you don't suck in the field and you don't slag off your teammates to sportswriters. You seem like a nice enough guy, if not a little too PR conscious and self-aware.

BUT, you have nine games (out of 333 total) as a New York Yankee in which you go 4-32 with 1 HR- your team loses 7 of these games, wins 2, and loses both the series in which they fell (last four games of the 2004 ALCS, the whole of the 2005 ALDS). Based on these 32 ABs, what do you get? Stuff like this. Great fans.


"A-Rod must be the most overrated ATHLETE of all time. He has never done anything in a clutch situation. He puts up the most meaningless statistics."
- Henry DeMatteis

"Who is to blame for the Yankees collapse? In order: A-Rod: i.e. choke-wad. Can't field, can't hit, can't show his face next spring."
- David Hannes

"A-Fraud is who to blame."
- Staff Sgt. Juan R. Garzon

"Alex Rodriguez, what a choke artist, same thing every year. "AVG.133," He can't handle the pressure of being a Yankee."
- Anaya Augustin


Gotta love Yankee fans! Nothing has gripped the sports world in these last two to three years like the rush to find new ways to pun on "A-Rod." Some inspired entries here- clever, all of them.

Am I a big A-Rod fan? No. Am I going to tell my grandkids I got to see him play? You bet your life I will. Players like Alex Rodriguez come around once in a lifetime, and as a baseball fan, I'm going let the fact that he's a PR-happy loser effect my appreciation of him? Nah.


---
So I finished In Cold Blood about a week and a half ago- something I'd been meaning to read for years now- and I loved it. Everything about it. It was astonishingly great. It's easy, when you're going into reading a book like there where you know of the brutality that takes place, to sort of anaesthetize yourself to it so as not to be as shocked or effected by it.

But the way he sets it up, the way he details not only the Clutter's home and background, but the precise and detailed way they were slaughtered, makes that impossible. That's one of the true gifts of the book.

Anyway, about halfway through the book I found out about this Capote movie with Philip Seymour Hoffman, which was pretty crazy coincidence. I was able to finish the book well in time for the movie's relese, so I checked it out last Thursday- I liked it a lot. One thing about Hoffman in the movie was how he avoided doing caricature- no impressions, he just played Capote like a character in the movie. Made it stronger as a result. A lot of things from In Cold Blood (the movie is essentially the story of Truman Capote writing the book) were staged really, really well- and much like I pictured them in the book. I wasn't aware of Capote's relationship with Perry Smith, but the entire crux of the movie seemed like Capote wondering what was more important to him- his friendship with this convicted murderer, or the completion of the book he was "born to write"? We realize soon on that Smith (and Hickock) have to die for the book to have closure.

Also, Bob Balaban was in it, and I love Bob Balaban.


Now I'm reading Mind Game, the Baseball Prospectus book on the 2004 Boston Red Sox and their construction. Among other things, it looks at the relative lack of effect strikeouts have on a lineup (an oversimplification, sure), Theo Epstein's roster construction, the hidden brilliance of Keith Foulke's career, the effect of a brawl on a team's performance (including some really cool historical indices of major brawls), the Pokey vs Bellhorn debate, the history and backstory of the career and acquisition of David Ortiz, the canny handling of Pedro Martinez during the year, the importance of winning and losing streaks on a season. A lot of stuff that I looked at here, actually, only with a lot more expertly statistical evidence to back it up.

Now, I know I set out with a list of books some while back that initially never included Mind Game, but its a quick read, and seemed to be a good thing to wind down a disappointing season when it came in the mail. I got through about half of The History of the Decline and Fall of the Roman Empire before being compelled to try something different in the Capote book. I'll probably crack out either the Lincoln bio or the first of the Teddy Roosevely bios next up, which I'll update on.


---
I'd be remiss if I didn't mention this. Above are the pictures of Doug Eddings fucking up the first time, and then the second picture is him fucking up the second time. Not pictured is his third fuckup, where he (according to catcher Josh Paul) yelled "OUT!"

So Doug Eddings sees the ball, believes it was caught by Paul, signals the third strike (picture one) and then signals the out (picture two). Nowhere does he indicate the ball hit the ground (traditionally done with a fevered point to the ground), and nowhere (according to catcher Josh Paul) does he indicate to the players verbally "no catch," or "in the dirt!"

There have been a few people who are trying to blame Paul for this, and while I guess I can see how it would've been better to just automatically tag him no matter what, ultimately this is in no way his fault. The umpire not only fooled him into thinking the inning was over, he managed to fool the ENTIRE ANGEL DEFENSE, who proceeded to walk off the field, hence the ability of Pierzynski (who, though I loathe him, made a heads up play) to reach first unabated.

I didn't really care who won this series, though I was leaning hard towards the Angels because of Ozzie Guillen, AJ Pierzynski, Scott Podsednik and Ken Williams (all varying degrees and reasons of dislike). Last night though, after that stolen base, I was praying Escobar got out of it. He hung an 0-2 pitch, but in his defense- it sucks having to strike out 3 major league hitters in an inning- 4 is REALLY tough.

Rootin' for the Angels now though, that's for sure.


______________________________

|