Closing the Book...
2005 Boston Red Sox

As I pointed out in the previous post, the 2005 Boston Red Sox entered the season a flawed team- not the same as the 2004, for sure- and endured crippling injury/ lack of production throughout the squad that hampered a number of sure wins, sunk them against seemingly inferior teams, and still squeezed 95 drops of blood from what looked to be a cold, hard stone.

I don't mean to claim it was some admirable, courageous feat for a team with a $130 million dollar payroll to simply make the playoffs- that part of the failure on the season is the "embarassing" part. But once the payroll is exempted from the equation, the team that marched to 95 wins and a share of the AL East championship overcame a lot of performance-based adversity to do so. Consider the case of Keith Foulke and Curt Schilling.

VORP
CURT SCHILLING
2004: 72.9
2005:__1.3

KEITH FOULKE
2004: 35.9
2005: -0.7

We went from 108.8 VORP combined from our two best pitchers in 2004 to a 0.6 in 2005. That is a staggering level of loss value-wise, and while some of it was made up elsewhere (Timlin- 28.6; Wakefield 32.9), none of it was enough to produce a run margin that gave one inherent faith in the team.

Here are some pertinent VORP numbers for the 2005 season:

DAVID ORTIZ______85.7
MANNY RAMIREZ____68.5

JOHNNY DAMON_____49.2
JASON VARITEK____45.4
BILL MUELLER_____32.3
EDGAR RENTERIA___26.7
TROT NIXON_______21.7
KEVIN MILLAR_____14.8
JOHN OLERUD_______8.7

TIM WAKEFIELD____32.9
MIKE TIMLIN______28.6
DAVID WELLS______24.1
MATT CLEMENT_____21.7
BRONSON ARROYO___16.9
JON. PAPELBON____10.9

GRADES

THEO EPSTEIN: C+

Theo's positive moves this year included acquiring Alex Joey Cora and Tony Graffanino for relatively nothing, promoting and sticking with Jonathan Papelbon in-season, acquiring David Wells, and acquiring John Olerud.


But Theo's mistakes were many-fold, and often put some of his positives in different context. For example, David Wells- his signing would have been a good one as a supplement to a full and complete pitching staff- instead, he was part of a trio of pitchers brought in to patch a hole left by Pedro Martinez' departure- Wells, Matt Clement, and Wade Miller. Wells performed well- save Tim Wakefield, he was the team's best starting pitcher, and absent a couple of early season blowouts, he actually had a very strong year, especially considering his knee injury.

But Matt Clement, after holding the team together in the first half, complained about being left off the All Star roster (though it was out of his manager's hands), allowed his ERA to balloon, and tripped up in multiple extremely important games. Wade Miller, a risk at best, tried to rehab his way back from a serious shoulder injury (instead of surgery) and was exceptionally inconsistent as a result. He rarely survived past the 5th inning.

Epstein's biggest error was in his bullpen construction. Much of that blame can be laid at the feet of Keith Foulke's injury (where hypotheticals have "feet")- when your 85 IP per year relief ace contributes negatively, it tends to have a stretching effect on the staff- everyone is stretched to "roles" above their heads, and thusly, the bullpen thins.

But while you can't blame Epstein for Foulke's injury (though who is to blame for not shutting him down at some point for surgery to correct the problem quickly isn't clear), you can blame him for constructing flotsam around him. There is a sentiment- a valid one- that shows a certain "lightning in a bottle" with relief construction, and while that is true, (see Todd Jones, Rudy Seanez, Bobby Howry both with us and this season) when none of them pan out, there needs to be blame handed out. Epstein's bullpen additions this past offseason included Matt Mantei, John Halama, Jeremi Gonzalez and Blaine Neal. Of these, one made it to the end of the season with the club (Gonzalez) performing at just below league average in mop-up duty. Mantei did what he's done nearly every other season in his career- end his year early due to injury. Halama was DFA'd due to extraordinary incompetence, and Blaine Neal was, presumably, shot and dumped in the Charles River.

In season, Epstein's additions included Mike Remlinger, Chad Harville, Chad Bradford, Mike Stanton, and the callups of Manny Delcarmen, Craig Hansen, Cla Meredith and Abe Alvarez. To put it mildly, nothing save for a few valuable appearances from Bradford, worked. Remlinger was obscenely bad, as were Harville and Meredith. Alvarez was used very sparingly, Delcarmen not given much of a chance after a bad outing in Minnesota with a big lead, and Hansen was (understandably) given a very short leash with uneven results.

Much of his inability to upgrade the bullpen in-season appeared to be a decision made early on- that none of the relievers available were worth the high price being demanded in the seller's market. Epstein didn't see an upgrade good enough to warrant auctioning off his prime prospects for marginal relief upgrade. I feel like this was a very, very strong decision.

He also gets points for not trading Manny, though I don't think he ever actually intended that it happen.

TERRY FRANCONA: B-

The knee-jerk reaction to this season is to see a team with so much bad luck, and to credit Francona with getting 95 wins and playoff berth out of it. While this is true, some of the bad luck can be attributed to Francona, as can some decisions that seem, to the observer, to have been to the detriment of the team.


I'm not one to often criticize the manager- his bullpen management seems, at times, spotty, but I'm not there and I don't have the information he has- player fatigue, arm soreness, crises of confidence, etc. But that said, a number of season-long decisions definitely hamstrung the team, and have to be counted against him. Here are the ones I observed:

a) Sticking with Kevin Millar
b) Leaving Edgar Renteria in the 2-hole
c) Sticking with Keith Foulke in high leverage situations long after he'd lost it
d) Not resting Bill Mueller, Jason Varitek, Manny Ramirez and Trot Nixon more

Taken one at a time...

a) Sticking by Kevin Millar as long as he did was something I'll never forget for the sheer frustration it raised in me. Check some of these numbers out:

KEVIN MILLAR
ROAD: .255 .333 .314 .647
vs. LHP: .246 .341 .345 .687
SLG: .399
(by month):
APR .307
MAY .327
JUN .574
JUL .375
AUG .398
SEP .509
OCT .000

Kevin Millar spent the entire season hitting on the road like Rey Sanchez, and had two months the entire year with a SLG over .400. He had 9 HR all year as a 1B, playing poor defense with bad baserunning, degenerating plate discipline, and little value against any type pitcher save the occasional hard-throwing RHP. Despite this, he managed 449 ABs this season. While it's true that Francona eventually gave in and more or less gave Olerud the job, the move was of the style called "day late and a dollar short." It killed our lineup as a he started (and often batted 5th!) consistently well past the point of being obvious to anyone watching that he was cooked.

b) In 2005, Edgar Renteria hit .253/ .313/ .342/ .655 against RHP. Overall, on the year, Edgar produced a .335 OBP, 55 BBs, and did it all hitting in the 2 hole.

How did Terry Francona, someone smart enough to ignore the strikeouts of Mark Bellhorn in favor of his ability to get on base in hitting him second in his order,
not be able to see that Edgar Renteria was an awful fit for the full-time spot hitting in front of David Ortiz and Manny Ramirez- especially against RHP, which he has shown over the last three years (.279/ .325/ .380/ .705) he cannot hit? It boggles the mind. There were a handful of players on the team (Varitek, Nixon, Mueller, Graffanino) who, against RHP, should have been in the 2 hole instead of Edgar Renteria. For some reason, due presumably to Francona's loyalty gift/ curse, it never changed. The Sox definitely suffered because of it.

c) It wasn't until a July 4th lead-blowing against the Texas Rangers that Keith Foulke was pulled from his spot as Sox closer and told to go get knee surgery. Before that time, he had thrown 39 innings at a 6.23 ERA in the highest leverage late innings of his appearances and was never moved to a less demanding role while he tried to figure out the lack of success he was having. If Mike Timlin is moved into the closer's role in, say, May- perhaps after his blowup against Oakland on the 11th- the Red Sox would have won the AL East.

d) Down the stretch (SEPTEMBER)-

MUELLER .263 .333 .323 .657
VARITEK .173 .280 .235 .514
NIXON___.233 .347 .349 .695
RAMIREZ .288 .364 .567 .932

Now, Manny is clearly the exception here, but I'm of the mind that for his disposition, attitude, etc- regular rest during the year, be that days off or days as DH, would do him good. But you can also see that Mueller, Varitek and Nixon all burned out during the stretch- Trot was robbed of his platoon partner in Kapler, which isn't totally Francona's fault. But for a 3B with bad knees and an excellent sub in waiting for him (Youkilis), it makes no sense to me why Mueller wasn't given regular rest as the season wound down. Ditto that for Varitek- understanding that he got regular rest during Wakefield's starts, Varitek was still worn down as the season wore on- through August, Varitek had just one month below a .900 OPS, and that was an .887 in May. He was one of our four most important players, and was playing so well from the catcher position, he was a legit top ten MVP candidate.

But Doug Mirabelli went down for a stretch of the season when Varitek got, as result, no rest. Couple that with his age and the 30 games in 30 days stretch endured in August, it was inevitable he would break down eventually.

PLAYER GRADES (taking into account expectations, ability level, performance):


David Ortiz, DH: A+


Manny Ramirez, LF: A-


Jason Varitek, C: B


Johnny Damon, CF: B


Bill Mueller, 3B: B-


Trot Nixon, RF: C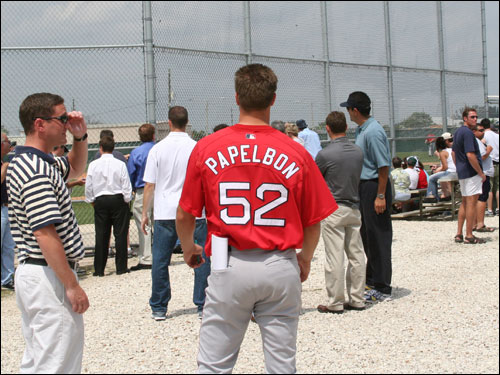 Edgar Renteria, SS: C-


Tony Graffanino, 2B: B


Alex Cora, 2B: B-


Kevin Millar, 1B: D


John Olerud, 1B: B


Doug Mirabelli, C: B-


Kevin Youkilis, 3B: INC


Roberto Petagine, 1B: INC



Tim Wakefield, SP: B+


Mike Timlin, RP: B+


Jonathan Papelbon, SP/ RP: A-


David Wells, SP: B


Bronson Arroyo, SP: C


Matt Clement, SP: C-


Wade Miller, SP: D


Curt Schilling, SP: F


Keith Foulke, RP: F


Mike Myers, RP: B-


Chad Bradford, RP: B-


Jeremi Gonzalez, RP: C


Matt Mantei, John Halama, Alabn Embree, Chad Harville, Mike Remlinger: F



---


I thought I'd point out my ten favorite games of the year here, and do a little blurb on a few of them. Here they are, in order:












This was one of the best games I've ever seen in my life: after getting 2 hard earned runs off John Lackey, Los Angeles battled back with two of their own in the 6th and seventh innings to tie the game. This was one we needed: New York was beginning their charge, and our hold on first place was tenuous at best. So when David Ortiz came up against one of the best relief pitchers in the league- Scott Shields, it was a testament to David that you STILL felt good about his chances. David hit a breathtaking HR that was bone-chilling- the moment he swung, you could see the entire stadium absolutely erupt. Unbelievable game, with a great start by Wakefield (CG win) and a great finish by the MVP.



I call this "The MLB Gameday Game." Watching at work, Erin and I were exchanging emails, nervous at the prospect of losing 3 out of 4 at home to the first place Orioles. Baltimore broke a 3-3 tie in the top of the 9th against Keith Foulke- equally as frustrating given that it heralded the entry of one of the AL's three greatest relievers into the game with a lead: BJ Ryan. Here's how the bottom of the 9th played out:

B Ryan relieved J Julio.
J Damon flied out to center.
M Bellhorn reached on infield single to third.
K Youkilis struck out swinging.
E Renteria reached on bunt single to third, M Bellhorn to second.
D Ortiz homered to center, M Bellhorn and E Renteria scored.

The key to the inning was Renteria- with two outs and one on, Ortiz on deck, lefty killer Edgar showed balls of titanium by bunting down the 3B line, catching Melvin Mora deep and guarding the line. Getting on with 2 outs, Ortiz worked the count full, fouled a tough pitch off, and hit one into the CF batter's eye to walk off. What Erin and I saw, as it happened:

"In play- run-scoring play"

At least it meant a tie game, but when the screen flashed that he'd hit it OUT- against a pitcher that rarely surrendered HRs- much less to lefties- it was hard to control my joy sitting there at work. Great game, and I didn't see a pitch of it.



Let's see- it was my birthday. Manny was possibly going to be traded.

Then, My Boy Blue Papelbon gets his first major league start, strikes out the first two batters he faces, turns in a quality start. Tied late, Manny comes into the game as a PH to thunderous applause against a tough RHP, and singles up the middle to win the game. It was storybook. Made me love Manny even more.



One of my two back-to-back walkoff game I saw in person, this game was better because it wasn't as frustrating leading UP to the game-winner. They had a good showing against Barry Zito, but Keith Foulke faltered again in the 9th trying to hold it down. That Eric Byrnes was the one to hit a HR to put them ahead, and that it was avenged made it even better. The Captain came through. Good stuff. I really thought we'd lose this game.



One of the twin 17-1 ass poundings we laid down on New York, I put the one at Fenway higher for one reason: Trot Nixon's inside-the-park HR past Melkey Cabrera in CF. Great stuff.



The SECOND of my two back-to-back walkoffs, this one with the improbable jack off the bat of jackoff Millar for the win, seen from the Monster Seats with Erin. I still can't believe he got that ball out off Dotel.



Another game we needed late down the division drive, this featured three of the more gutsy innings thrown all season from Jonathan Papelbon (his first career victory) to keep us in it as the lineup turned over for David Ortiz in the 11th, off Pete Walker to win it. David and Manny had hit HRs earlier in the game off Ted Lilly, and this extended our then- AL East lead to 3.5 games.



This one was in Yankee Stadium, so that was fun to see. 27 hits, a grand slam from Edgar Renteria, and HRs from Trot Nixon and Jay Payton. Nice to see that in their house once in a while.



After having a ball go off Clement's head and clear into LF, it appeared that the Rays were going to feast on a preoccupied team, and I didn't even know if I cared. But then Johnny Damon made an incredible catch up against the wall in the bottom of the 8th to keep the game tied, ran into the dugout, picked up a bat, and drilled the first pitch he saw to lead off the inning over the RF wall to put the Sox ahead for good. Exhilirating to watch, hard to describe how fun it was to watch.



Ballsy comeback win on the road against a hot team and their hot closer.


______________________________

|