New Pics of the Stadium, Goin' to the Met Game...
So I got some pictures back from the construction site, and I'm very pleased and excited to show you the latest picture of the newly erected "Bullshit Memorial Stadium," seen here from CF towards the resplendent Olde Tyme-y hand operated scoreboard.

Of course there too, in lights, is the magnificent name of our ball-ground, in sterling bright white lights.

Looks good, huh?

Well, in all seriousness, I stayed up last night playing MVP 2005 and constructing my awesome "youth movement" roster. In the game, there are younger prospect players- entirely made up, of course, because they can't use minor league player's names in the game, as they're not in the MLBPA yet- that comprise a list of the "Top 100 Prospects." Some are actual guys because they have MLB service time, but most aren't.

Anyway, the ones that AREN'T real guys, happen to correlate to actual blue chip minor leaguers. In fact, someone figured out who is who, and this is the code, broken.

So, armed with this info, I started an owner mode with a fantasy draft, and went (for the most part) young, compiling prospects while the computer was picking current stars for the other teams. I did invent a couple Red Sox prospects that aren't actually listed, as only Hanley Ramirez and Brandon Moss have "representatives" in the game. Here's my lineup:


Rickie Weeks, 2B


Hanley Ramirez, SS


Albert Pujols, 1B


Joe Mauer, C


David Wright, 3B


Prince Fielder, DH
Conor Jackson, LF


David Murphy, CF


Carlos Quentin, RF


ROTATION

Jake Peavy, RHP
Jon Papelbon, RHP
Jon Lester, LHP
Anibal Sanchez, RHP
Felix Hernandez, RHP

BULLPEN

Huston Street, RHP setup man
Manny Delcarmen, RHP setup man
Chris Reitsma, RHP
Dan Meyer, RHP
Francisco Liriano, LHP
Craig Hansen, RHP closer

BENCH

Daric Barton, C
Dustin Pedroia, 2B/ SS
Brandon Moss, OF
Andy Marte, 3B
Delmon Young, RF
Lastings Milledge, CF


I'm planning on simming through the 2005 season in order to get them to progress a bit, and start playing them as a 2006 team. For some reason Hanley was drafted really early whereas no other prospect really was- so I found him stashed on the Cubs, and I traded Maicer Izturis, who I'd drafted in his place, plus a minor league reliever for him. Then, I dropped Mark Prior on Florida for Joe Mauer, as I had six starters and I wanted the best "prospect" catcher available (Mauer was listed as such still- this remember, prior to the 2005 season). Now with 3 catchers (Daric Barton, Brad McCann and Mauer), I had the ability to go out and trade for a realistic prospect reliever comp that I could turn into Craig Hansen.

For the record, I took Pujols with my first pick, and since he's only 25 in the game, he actually fits right into the "young team" mold, and actually keeps their head above water for the first season.

I'm going to update this spry little squad as often as possible.


---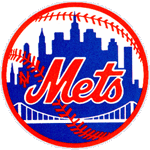 SO tell me if this makes any sense. Erin and I go into the Mets Clubhouse Shop on 42nd and 6th to get some tickets for tonight's game, upper deck. Apparently this is the 40th anniversary of the Beatles playing at Shea, and ace Beatle tribute band Strawberry Fields is going to play like three songs at 630, which Erin was into checking out.

So we ask for the two seats, he's all ready to charge us- $33 for the two- and then he looks at me and says, "just go ahead and buy a t-shirt, I'll give you the tickets." So, confused, I say, "wait, you'll give them to me for free?" He nods. "If I just buy a t-shirt?" Nods again.

I meander over, pick up the blue Pedro Martinez name and number Mets t-shirt and get rung up- $21- and he hands me two tickets without a transaction.

So basically, the guy was already to give me, for $33, two tickets for the upper deck to tonight's game. No argument from me. At the last second, he tells me the different offer, which is, for $21, a Pedro Martinez t-shirt and two tickets for the upper deck to tonight's game. Someone please tell me how that makes sense. If it wasn't the Mets' official club shop, I'd be convinced I had fake tickets. As it is, I'm still a tiny bit concerned. I shall update.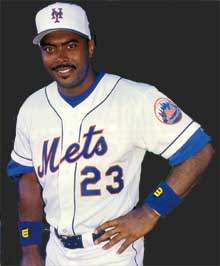 As a sidebar, here's a great site on the history of the evolution of the New York Met uniform which, in my day, was one of the coolest in baseball (the orange and blue with the thick piping on the arms). When, in 1998, the third color of black was added, my God did it go to shit fast. I've probably said it 8 million times on this site, but nothing jabs in my side more than the advent of black in major league baseball uniforms, and most of all in the Mets. Ugh. Just makes me so fucking mad. It looks awful! The blue on orange looked so clean and cool! Idiots! All so a pack of 13 year olds will find the merchandise more "palatable." Same reason they created four new teams in the 90s that had principle colors of purple, black, teal, lavender and seagreen. Blech.

But check out Bernard Gilkey- anyone remember those white ice cream man alternate hats? I do. Wow those were a bad idea. They used to wear them in like, the dog heat of August, sweat right through them, and the crown of the hat would be a disgusting mixture of see-through and yellow sweatcoloring. Just nasty. Here's some interesting info on the Met logo:


The shape of the insignia, with its orange stitching, represents a baseball, and the bridge in the foreground symbolizes that the Mets, in bringing back the National League to New York, represent all five boroughs.

It's not just a skyline in the background, but has special meaning. At the left is a church spire, symbolic of Brooklyn, the borough of churches. The second building from the left is the Williamsburg Savings Bank, the tallest building in Brooklyn. Next is the Woolworth Building. After a general skyline view of midtown comes the Empire State Building. At the far right is the United Nations Building.
("The Mets Logo", 2001 New York Mets Information Guide, page 4.)


______________________________

|