Books, Baseball on DVD, The "No Gary Rule"

So I stopped by the Barnes and Noble at 48th and 5th today, and picked me up a few books. Unfortunately, though she totally came through birthday present-wise in other respects... my Mom happened to get me the wrong Lincoln biography. I really wanted to read the David Herbert Donald work, Lincoln but unfortunately, Mom mistakenly got the Carl Sandburg book, Abraham Lincoln: The Prairie Years and the War Years. Hey, the Sandburg one is supposed to be good- but I've heard great things about the Donald one. So I went to make the exchange.


While there, I grabbed a few I'd been interested in for a while, which I was really pumped about. I got:



Lincoln, by David Herbert Donald


Guns, Germs, and Steel, by Jared Diamond


The History of the Decline and Fall of the Roman Empire, by Edward Gibbon


The Biographical Encyclopedia of the Negro Baseball Leagues, by James A. Riley


I'm really excited about the book on the Negro Leagues- it's something I really want to get to know fairly well, and this is a great primer on a lot of the players, including my all time favorite- Wilbur "Bullet Joe" Rogan. Guns, Germs, and Steel is a book I've wanted to read for forever, and I got Decline of the Roman Empire because it's famous and I like Roman history.

So now I have a pretty heavy duty "To Read" list goin' on. I know I mentioned I was going to read Don Quixote, but I decided to finish reading Ulysses instead, which I'd taken a break from in order to read Truman. So here's what's on deck for me:


Ulysses, by James Joyce


Lincoln, by David Herbert Donald


The Rise of Teddy Roosevelt, by Edmund Morris


Theodore Rex, by Edmund Morris


In Cold Blood, by Truman Capote


Guns, Germs, and Steel, by Jared Diamond


The History of the Decline and Fall of the Roman Empire, by Edward Gibbon


James Joyce, by Richard Ellman


Don Quixote, by Miguel de Cervantes


Should be cool. I'll keep all updated. I think I feel like throwing some Faulkner in there too, so we will see.


---
I recently got my hands on some great DVDs- DVD-Rs of "Pedro's Greatest Hits"- his dominant performances in 1999. Three games- September 10th in New York, October 11th in Cleveland, and October 16th in Boston.

Just really fun stuff to watch. Pedro, who looks much more than the 6 years younger he was in 1999, seeing John Valentin, Troy O'Leary, Darrin Lewis, Mike Stanley, Jose Offerman and Brian Daubach as regulars. Nomar hitting everything in sight. No Monster seats.

I remember being a huge John Valentin fan, not the biggest Troy O'Leary fan (his feet were always moving in the batter's box), and obviously, to this day, borderline worshipful of Pedro Martinez. How could you not be at least back then?

It's odd watching the ALDS Game 5 against Cleveland. Pedro had been pulled from his last start due to a "bad back," and everyone was freaking out because they saw him the night before, in Fenway, dancing to "Mambo Number Five" in the dugout. Joe Buck and Tim McCarver seemed pretty convinced that it wasn't anything serious- nothing to do with the shoulder- because he "wouldn't pitch if it was." In fact, Steve "Psycho" Lyons was the only one who was close to the truth- that it was a shoulder problem, and that it would effect him going forward.

The big question of the night was, "can Pedro pitch if needed?" No one knew for sure, of course because questions of that ilk usually prompted rambling and facial tics from Jimy Williams. At one point though, Bob Brenly (ugh) actually made a report from the field about Pedro having his spikes on, and not his running shoes- proof that he was available. Actually turned out to be a good call.

It's also worth mentioning how much Joe Buck has tuned down the jackassery in the booth. Remember when FOX first started covering the playoffs, and it was a blatant "let's get the 15 year old boys" enterprise? Even more than it is now? Well, he's in full force in this game- singing, just being a total jackhole. In Buck's case, the phrase "the apple doesn't fall far from the tree" is, unfortunately, a crock of horseshit.

Of course, Saberhagen starts the game, gets lit up. Fairfield, CT native Charles Nagy starts as well, and Troy O'Leary hits a HUGE grand slam to give the Sox the lead (after Nomar absolutely TAGGED a first pitch Nagy fastball for a 2-R HR in the 1st inning). BUT- the Sox pitching (Saberhagen and Derek Lowe) couldn't hold that lead, and with two absolute BOMBS off the bat of Jim Thome, the game was tied and it seemed like only one guy could ride in off the bench and save the Sox. It was Pedro.

Interesting watching Kenny Lofton go sliding in to first on a grounder that was a race to the bag for he and the pitcher, and after Pedro beat him, looked down and pumped his fist in Lofton's face. After it looked like Lofton was hurt pretty badly, Pedro gave him a pat on the ass as he was carried off the field.

Who replaced Lofton in that game? Dave Roberts.

Another great moment was, as Pedro was mowing down the Indians, Sandy Alomar worked a walk. Standing on 1st, in the interest of breaking Pedro's rhythm, Alomar called time and untied his shoelaces... then retied them. After time was restored, Pedro looked over at Alomar on first, shook his head and smirked. Then you could clearly see him shout to Alomar- "not gonna work." I miss badass Pedro. I miss Pedro, period.


It really is amazing when you think of the players that were on that mid-90s team. They had Roberto Alomar, Manny Ramirez and Jim Thome in the middle of their lineup, all in their peak. They also had a healthy and productive David Justice, Kenny Lofton leading off, a young Richie Sexson hitting 31 HRs in limited time, Sandy Alomar Jr coming off the bench, and a veteran like Harold Baines as a bat off the bench. That team was mind-bogglingly talented at the plate. Of course, they had 40% of their rotation tied up in 6+ ERAs (Jaret Wright and Dwight Gooden), without a real dynamite closer. They were truly weak pitching-wise. Even still- they brought Bartolo Colon through their organization too. Amazing.

The other startling thing is that Pedro- in contrast to his 17K masterpiece against the Yankees a month earlier- didn't have a great fastball. It was the birth of Pedro's crafting his approach to his stuff- he through a lot of changeups, cut fastballs and curves to get ahead early, and as McCarver loves to tell us... "will throw any pitch, any time." Very true, actually.

Long story short- Pedro was arguably one of the three or four greatest pitchers who ever lived at that exact moment in time- from 1997-2002, one can make a case that no pitcher has ever been better, period (especially in era and park context).

And these DVDs are KILLER!


---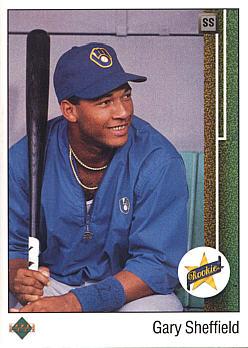 New rule here at BSM. No more talking about Gary Sheffield.

No more wasting time picking apart his retarded ramblings like the ones in this New York Magazine article, no more reacting to his fucking absurd "I was taken out of context because I'm black" routine (the reporter says... "Um, I have it all on tape"). No more words spent pointing out the remarkable and breathtaking hypocrisy in his "hard-line stance" on steroids (paraphrasing)-


If a guy is proven to be on steroids, they should be out- for the YEAR. None of this ten games stuff. A whole year.

I'm not going to waste any more time on the guy. He's obviously delusional, angry, completely Neanderthalic and, after all, never said all things he said anyway. So what's the point?

I don't usually get caught up in liking/ disliking baseball players off the field. 99% of the time, unless he seems like a great guy and it makes me root for him a bit more... I couldn't care less. Gary Sheffield, as I've mentioned, is
an exception. It's that odorous mixture of stupidity and the pride he takes in what he thinks is his tell-it-like-it-is persona. He's a real tough guy. Great.

Seriously, I could pick that New York article apart eight times to Sunday, but what good would it do? You either hate the guy yourself or have an invalid opinion on the subject, so one way or the other, I'd be wasting my time. Right?

So new rule- not gonna pick apart every new Gary Sheffield tirade, unless it's totally ridiculous and I feel compelled to, in which case he will heretofore be known exclusively as... Leon.


---
The Red Sox announced their minor league players of the month for July recently. Here's the list, broken down by award:

David Murphy, OF (AA Portland): Quality Plate Appearances
Jon Lester, SP (AA Portland): Pitcher of the Month
Christian Lara, SS (A Greenville): Best Defensive Players
Luis Segovia, SS (GCL Red Sox): Best Baserunner
Jacoby Ellsbury (A Lowell): Best Basestealer

Ellsbury, who has been injured, still had nearly a SB a game as he started his professional career this summer. Word has it that his injury is not serious, and that the Red Sox are simply being very, very careful (it was a leg injury).

Look for a Prospects Update from here soon (I'm probably going to ditch the Papelbon/ Moss exclusive updates).


______________________________

|