OKI-NO-CHI CHI!!!



La mierda santa, este hombre puede jodiendo el golpe, y esa pelota fue a un Dios maldice milla!

Even though, with 2 outs and the game on the line, and a left handed hitter coming up against BJ Ryan- the best closer in the AL, and a lefty- Renteria bunting doesn't top my list of smartest plays of all time, mostly because if he'd popped it up, I'd be ready yo drive to Boston and cry right in front of him, just to make him feel bad... but you have to admire the stones of the guy in that spot. He can crush lefties, but he knew it'd take two hits anyway, in all likelihood. So, he put the ball down in front of a drawn back Melvin Mora, moved Bellhorn up to 2B to be driven in... and then they all were.

I was watching at work, following via MLB Gameday. Anybody that knows Gameday knows the nerve-racking nature of how it unfolds. When a hitter makes contact, the ball in the strike zone is outlined in purple, and in the pitch list below, it will say either
In play, out(s) recorded
In play, no out recorded
In play, run scoring play

With two outs and down one, when Ortiz hit it, I saw the third, and I knew that at least Bellhorn had scored, and the game would continue. So I sat staring, waiting when I should have been working, watching to see where the ball actually landed. Turns out it landed only a couple rows from my seats on June 27th, in the hitter's eye in CF, a titanic shot considering who he hit it off. BJ Ryan just flat out does not give up HR.



Click for size BSMemorial ACTUALLY watched!

Awesome, awesome win. Unfortunately, as has become the custom recently, these great games become possible because of Foulke faltering. I'm really pulling for him to come back into line, for obvious reasons.

But I think it's long past going without saying that we're not going to see another guy like David Ortiz again in our lifetime, with all these types of hits in one career, so we may as well enjoy it. I still remember waking up in the morning in college reading that we'd signed him and thinking, "aw, cool. I've always liked that guy." I had no idea.

DAVID ORTIZ, WALKOFF HRs AS A RED SOX

9.23.03___vs Kurt Ainsworth___| 10th inning | 6-5 over Baltimore
4.11.04___vs Aquilino Lopez___| 12th inning | 6-4 over Toronto
10.8.04___vs Jarrod Washburn__| 10th inning | 8-6 over Anaheim*
10.17.04__vs Paul Quantrill___| 12th inning | 6-4 over New York*
6.2.05____vs BJ Ryan__________| 9th inning__| 6-4 over Baltimore

*- postseason game


---


Time for a check on the Pavano/ Clement matchups, especially considering each pitched tonight.


Pavano got the loss in Kansas City's sweep of the Yankees, going 5.1, giving up 5 ER, striking out 2 and giving up back-to-back HR to Matt Stairs and Terrence Long.



Clement got a no-decision in a decent outing against Baltimore today, a game Boston won. Duh. Clement went 6 giving up 3 ER, walking 3, striking out 4 and surrendering a HR.


Here's how they match up:

MATT CLEMENT | RHP
6-0, 3.17 ERA, 76.2 IP, 73 H, 29 R, 3 HR, 29 BB, 58 K, 1.33 WHIP, 6.81 K/9 IP, .249 BAA

CARL PAVANO | RHP
4-4, 4.50 ERA, 70 IP, 93 H, 48 R, 13 HR, 12 BB, 41 K, 1.50 WHIP, 5.27 K/9 IP, .314 BAA

Not too much to analyze here- Pavano is giving up assloads of HRs and hits, and is relying far too much on BABIP (batting average on balls in play) due to his low K rate. The historically inept Yankee defense makes this a foolish idea.

That being said, a lot of what has helped Clement is his ability to stay away from the HR, and thus, the big inning. He's still walking a lot of batters- the knock on him from the start- and his K rate is kind of low, though I'm half guessing that's as a result of work done by him and Varitek on improving his control. Clement's strikeouts often come on pitches out of the strike zone- cutters and a hard, biting slider off the plate that, when batters key in on it, just let it pass and get ahead in counts. That said, it hasn't really worked for his control, but maybe this is partially what is keeping him from surrendering any HRs.

I'm happy with Matt over Carl, as I'd said from the beginning. We'll see how it continues. For whatever it's worth, I saw Pavano's start against an atrocious Royals offense, and they touched him up for 5- and it wasn't bad luck. They were smacking him around a bit.


---


Revenge of the nerd! In an interesting article, David Gassko attempts to find a method of evaluating GMs in baseball using results based metrics. I wasn't really too fond of a lot of his conclusions- many of these models don't account for the long-term cause/ effect of trades, and weights a little too heavily a wealthy team's ability to stake a clear adavantage in a trade.

That said, the list came to a conclusion I'd known it would come to anyway- Theo's the man.


Theo Epstein (BOS)


Gerry Hunsicker (HOU)


Billy Beane (OAK)


Terry Ryan (MIN)


Ed Wade (PHI)


Obviously any list that has Wade at 5 is flawed- or Ken Williams as high as 12th, and Chuck LaMarr over... anyone. But an interesting read nonetheless.


---


Watching the Yankee losses to the Royals these past few nights, it's interesting to hear Kay and Singleton/ whoever talk about what was happening in front of them. At one point, they got to discussing new manager Buddy Bell:


KAY: Interesting that they hired Bell before the start of a home series, you usually see it on the road, in the interest of diverting some of the pressure.

SINGLETON: Right, and against a team like the Yankees. You'd think they'd wait for a Tampa Bay to roll into town...

KAY: So the new manager can get off to a good start?

SINGLETON: Exactly. Instead, Royal GM Allard Baird electing to make the change as a very good team rolls into town in the Yankees. Shows the faith he has in Bell to start his tenure against one of the best teams in the league.


Well, allow me to retort.

The Yankees, in 2005, are NOT a "very good team." They're NOT "one of the best teams in the league." They're a fourth place club that have hovered just above last place the entire year and are perched just north of .500, despite a stretch in which they won 16-out-of-18 games.

Sorry guys, you're not "good" simply by virtue of being the Yankees. The Braves, winners of 13 straight division titles, aren't given the same preceding reputation. The Yankees don't get it either, dickwads.


---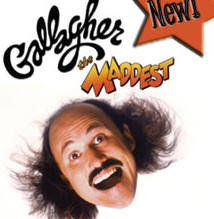 Gallagher hit one of his 5 fans at a show. Here's my question. Which Gallagher was it?

No, seriously, it's confusing, are we talking about the original? Or Gallagher II? Is the imposter dead? Is it his brother? Is it black Gallagher?


---


Speaking of Chappelle- now that I've gotten Season Two on DVD, I've decided to whip up a quick "Top Ten Chappelle Show Sketches," especially considering Erin and I, who live near the Comic Strip, looked at that live video monitor they feed out onto the street, and saw Neal Brennan doing a set inside. Co-creator of the show. Here's my top ten:


Ride with Wayne Brady- "If you do not smoke this nigga, we have got a PROB-lem."


If Bush Was Black- "Oil? You cookin' something, bitch?"


Rick James, Bitch/ Prince Can Ball- "I'm thinkin', 'this nigga has lost his fuckin' mind, man."


Black, Blind White Supremacist


Tyrone Biggums- First Season- "Dog food tastes just like it smells... delicious!"


Dave at 18, 24, 30- "You gonna go tell Mom I in the kitchen cursin? Yea, SHIT!"


Racial Draft- "Haha... hey man, fuck you."


The Niggar Family- "Honey, these are the Niggars I was tellin' you about..."


When Keeping it Real Goes Wrong- "Grannie nooo!"


All Black 'Real World'- "What's the square root of this apartment?!"


Discuss. I'm sure the Broseph will want to chime in.


______________________________

|