I Had This Coming...


Well, considering how well my last two game trip to Fenway went, I guess, in a way, I had this coming. I really did go from two of the best games of the season for the Sox to seeing easily two of the worst. Just absolutely terrible.

The first game, the defense was poor, the offense looked lethargic and jumpy at Millwood's great stuff, and Arroyo let every mistake by his defense compound itself with poor pitching. 7-0 Cleveland, including one of the more rain-making blasts I've seen in person in my life off the bat of Travis Hafner. Hafner is like the big, bad, brawling power hitter from every baseball movie- the one that comes up to bat swirling his bat and spitting tobacco juice and taunting the good-guy old veteran pitcher trying to get one more game out of his arm. Of course, Hafner doesn't seem like a bad guy, and I never saw him spit in the batter's box (doesn't mean he didn't). That said- he scares me. He's actually pretty easy to like- a really great hitter with a good eye, lots of power to all fields.

Our seats Monday night were cool- I'd never sat in the batter's eye section before in CF, and it was great- Damon's pointing all night, it's a great view of the ball off the bat, and you're nice and close. Here are David and Manny hitting, and Hafner working out pre-game: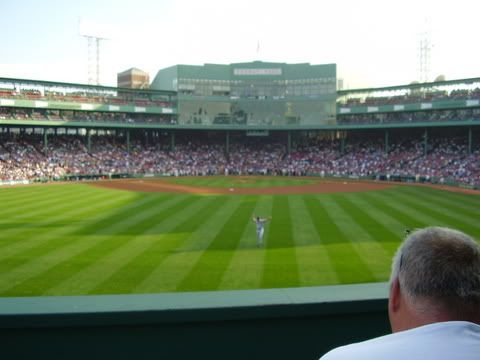 We actually noticed the Sox screwing around a lot in warmups, which is always fun. I mentioned in my last post about Manny playing along with the Wave for the LF Grandstand seats, and it looked to me like Trot and Millar were having a tough time keeping their laughter under control during "Star Spangled Banner" (though you wouldn't know it from Erin's piece of shit 'not focusing right' digital camera):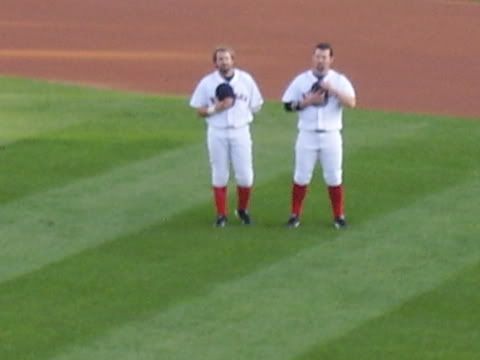 Johnny shifting position from our seats: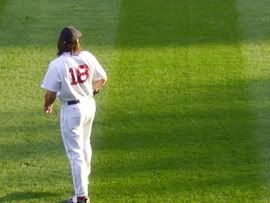 This was a (reasonably) cool shot: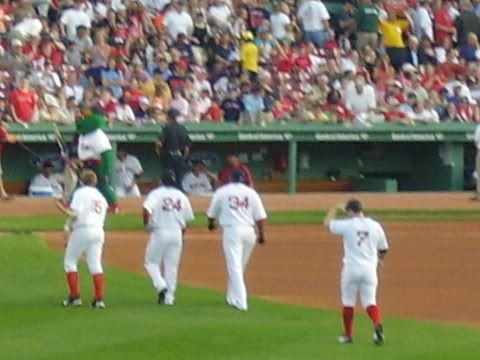 Thing is, Erin's camera is clogged with pictures of her goddamn dog, so I had to keep it thrifty on the picture front. Oh well. Wasn't much to take the first night. At one point though, a lot of people were looking up at the RF roof seats and cheering wildly, and eventually we realized they had taken the World Series trophy out- it looked like some sort of charity function up there. Here's Erin 'Ansel Adams' F.'s photo: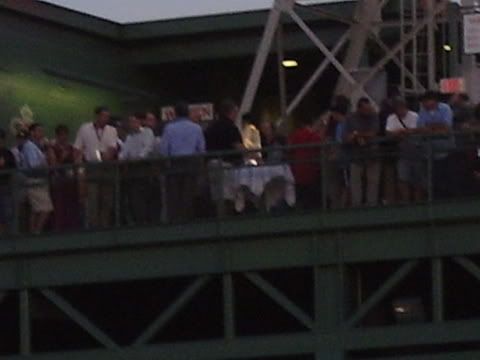 You can see it up there, right?

Anyway, next night was even worse, though I liked these seats better. I've sat in this area before- the bleachers like 30+ rows up- and I really, really like them. Really decent leg room, great view of the entire park, nothing overhead, and pretty well priced.

At least in this one, we got to see some offense, but unfortunately while that great outburst gave us the lead... Keith Foulke gave it right back. I love Keith Foulke- I still do- but he looked awful last night. He WAS getting squeezed by the ump, and Bellhorn COULD have pulled that throw down from Manny at 2nd, but Foulke was just poor. Thing was, he actually looked pretty strong when he first came in, using his change to get ahead and seemingly spotting his fastball. Unfortunately, it deserted him. When he loaded the bases for Hafner, I had an awful feeling, especially considering the BOMBS he was hitting in BP. He was peppering 490+ fters all over the yard. He only snuck this one out, but shit- it was pretty hard to watch. Interestingly enough, the most we could muster in the bottom half of the ninth was a 3 pitch inning. I don't know that I've ever seen one of those.



I had a lot of captions ready for this one:
"The crosseyed look is what you get for huffing paint in grade school."

and

"Erin has taken a position of head photographer at Self Esteem Obliteration Magazine."

even

"Give me... a keg... of beer."-

which would be an excellent one to make Mike laugh, given the red-eye.

But I'm going with "Does this ring make me look fat?"


---


So apparently Foulke was really really bad last night and really, really upset about it, which lead him to say some disparaging things about the guys screaming boos at him as he left the field. So as a result, this was Steve's reaction: Johnny from Burger King Blowup. Predictably lame, but whatever. Who cares.

What CRACKED me up was this:

Boston.com poll

It's a poll about whether Keith Foulke should apologize for his (pretty tame) comments. From boston.com. Linked on Dirt Dog. Wondering about an apology. Ahem!

You guys can keep emailing them- they don't care, and they're going to continue to care so little that they'll be oblivious to such earth-rupturing hypocrisy. In fact, 'hey, if you sent me an email in the time period of my controversy... uh, my email was broken. So tough shit.'


E-mail Update: We had a problem with our e-mail server from June 13 to June 28. If you sent in a note during that time, please resend as some e-mails were lost.


I respect the boycotts of his site, and I'd actually follow with them if I thought
a) it would make a difference, and
b) I thought he was done doing things so dumb and inflammatory as to be begging for deconstruction

But neither of those things appear to be happening anytime soon, so I've been keeping an eye. Apparently boston.com is cool about the fact that he doesn't have scoops any longer either, and that his only connection is to a legion of photoshop experts across Red Sox nation.

Anyway, anyone who can accurately guess what our BSMemorial comment favorite "Derek" will say in response to this gets a gold star.


---


Yankees try to trade Gary? That make Gary MAAADDDD!!!

I will inconvenience you, trade suitors!


Gary Sheffield is the newest name at the center of the early summer trade rumors, but the Yankees' right fielder has a warning for any team interested in dealing for him: Don't bother.

Sheffield, who is reportedly being dangled by the Yankees in a deal with the Mets that would land Mike Cameron in the Bronx, said that if he is traded, his new team better be prepared to extend his contract and give him more money -- and whatever else he can think of to make it pay for taking the pinstripes off his uniform.

"It was my first choice to come here," Sheffield said. "I made a lot of concessions to come here, and I'll make it very clear. If I have to go somewhere else, a lot of things are going to have to be changed or you're going to have an unhappy player.

"I'll ask for everything. Period. You want to inconvenience me, I'm going to inconvenience every situation there is," he added. "The only reason I'm playing is that I wanted to play for the Yankees. If I don't get that opportunity, things change."


Gary Sheffield makes me feel all warm and fuzzy about baseball. How about you?


______________________________

|