Kim Traded Away, Psycho Killer Re-Acquired, Surreal Life 5...

"The Surreal Life" is something I do not recommend. But, I feel that everyone should watch it because it could help everyone.

The Surreal Life 5 has set it's next cast, and it looks to be a real doozy. This past season was total garbage- the Chyna-on-PCP scenes notwithstanding. Here's a look at the new crew:



America's Next Top Model judge Janice Dickinson


Jose Canseco


Sandi "Pepa" Denton of Salt-N-Pepa


Bronson Pinchot from Perfect Strangers


Omarosa Manigault-Stallworth from The Apprentice


British model Caprice


Motorcrosser Carey Hart


Nothing will ever beat the first season cast- even if it was a bunch of Dave Couliers, the fact that it had Corey Feldman makes it the default winner. It also had the benefit of featuring Gabrielle Carteris and Vince Neal too, which wasn't short on the funny. Brande Roderick was the eye candy, never since surpassed on the show.

Jose Canseco, Bronson Pinchot and Omarosa are the ones to look forward to. Jose may be the dumbest person ever to appear on television (plus we can look forward to his frank discussions of the blackballing he and all his Latin brethren faced in baseball, as well as his telling any castmember that'll listen how he's "still good enough to play major league baseball"...and the face-tics), and he'll be the easy star of the show. In fact, it wouldn't matter who else was on the show, he'd be the attraction.

Pinchot I'm curious just to see what he's like, and yes, I know that Balki accent wasn't real. Omarosa is a miserable c-word, and I enjoy hating her. The rest of them are probably pretty boring- isn't Janice Dickenson the Simon-from-American-Idol of her reality show? Boo-o-ring. Same with "Pepa," who's "role" I liked better (though not at all) in last season... when she was played by Da Brat.

Caprice is hot- Bill, my college friend and editor at TWEED, had a major boner over her. I have no idea who Carey Hart is.


---

"I'm baaa-acccck!"

Psycho Killer Mike Myers returns. In return, St. Louis receives Carlos de la Cruz (OF) and LHP Kevin Ool, both of whom spent time in low-A ball last season.




Though not yet confirmed, it is now on RedSox.com, which makes it all but certain: the Red Sox have traded Byung Hyun Kim to the Colorado Rockies for minor league pitcher Chris Narveson, and have assumed all but $500,000 of Kim's $6 million salary.

I'll be honest and say that I'm really disappointed to see the end of the Kim era in Boston. When we traded for him in 2003, it was a fleecing- a crappy, overrated 3B for a young, dominant RHP with a proven track record of success in the MLB. He was brilliant down the stretch in '03, a key cog in Boston's eventual playoff berth- something people often conveniently forget. He flipped off the shitbags that booed him in the first 03 playoff game- he shouldn't have done it, but the way it followed him around was telling. I really and truly believe in my heart that Byung Hyun Kim was unfairly demonized during his time in Boston because of his race.

Red Sox fans had a virulent hatred for him from the time he arrived- oftentimes extending players on the Red Sox excuses they wouldn't for Kim. For some indeterminate reason, Kim was already down in the count from the moment he was acquired, and despite great work down the stretch, was still roundly jeered- and BOOED in his home park!- at every turn.

Unfortunately, since 2003, Kim's been on a steady and altogether mysterious decline. Starting the 2004 season as the #5 starter, Kim soon reported to camp with shoulder troubles that pushed his start date back into the regular season a couple months. After a concerning lack of velocity (and an even more concerning inability to recover it) lead to his getting shelled in his second start, he was quickly sent down to the minors to continue working the kinks out. Eventually, he disappeared to Korea where he underwent therapy to "correct imbalances in his legs," returning only to pitch three innings at the start of Pawtucket games every 3-4 days. Trade rumor was rampant. His complete lack of velocity, his loss of command, his high price tag (after a questionable resigning by Theo of 2 yr/ $10 mil), and the unusually high amount of negative press he was getting from members of his own organization all pointed to the inevitable- Kim was going to be dealt as soon as there was a suitable taker.

It's too bad such a promising career has had such a violent derailing. Given his youth and the shit a lot of Sox fans put him (largely needlessly) through, I for one will be rooting extra hard for him to succeed in Colorado. As a groundball pitcher, he's certainly someone that could thrive there, if he can regain some semblance of his earlier dominance.




Here's Narveson's scouting report from Sox Prospects.com:


Tall lefty possesses a low-90s fastball, as well mixing in an above-average curveball and changeup. Narveson was once considered a top-of-the-line prospect in St. Louis until he was sidelined after Tommy John Surgery for most of the 2002 season. Still has back of the rotation potential.


Additionally, the Red Sox acquired veteran catcher Charles Johnson in the deal, who they immediately designated for assignment and released outright. This was, apparently, in order to spell some of the hit Kim's money would take on the cap. Here's a more detailed explanation: Firebrand of the AL.


---


Finally...




If you're not a Red Sox or Yankee fan, approximately how sick are you of hearing about them and their little rivalry? I'm a fan of one, and I'm totally exhausted with it. It ain't fun anymore.

Damon, consequently, will be signing copies of his new book Idiot at Barnes and Noble's on 5th Avenue and 48th Street on Monday, April 4th, the day after the opener, at 1 PM. Be there!

Another MLB Preview Sox cover...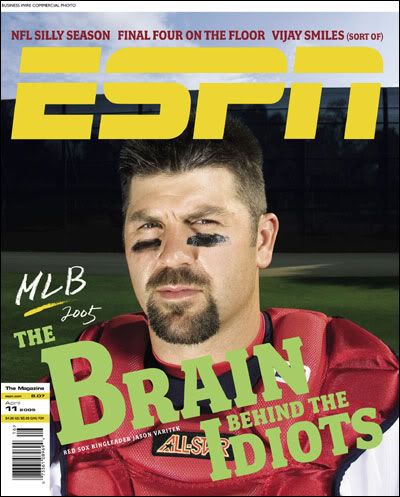 ______________________________

|