I Have NOTHING To Say. Really.
Forgive me while I ramble a bit, because there seems to be NOTHING worth writing about.




Thank you, SOAPNet. Thank you so much. For years, the best a 90210 fan could do was wait for sick days or holidays to see it on FX early in the morning. For some reason, one of the most imminently re-watchable shows of our era wasn't eating up prime syndication times- 5, 6, 7PM. Meanwhile, 7th Heaven chews up and spits out time slots like it's the only show they kept the tapes for.

But along comes SOAPNet, a channel so gay to watch, I had to actually buy turqoise jewelry to get it on my cable package. It was total luck I found it too- I never even stop on that channel, but I did one day because it was also showing Melrose Place, and it was cracking me up (plus Locklear's a fox). I saw an ad for it- every weekday, 5PM. I tape it while I'm on my way home for work.

They're working on the first season as we speak- different credit sequence at the start, slightly different theme song (not as "heavy riff guitar"), David Silver hasn't had his voice change yet, Donna doesn't talk much, the Peach Pit is some ugly hole-in-the-wall... you get the idea. The classic era. Every day. Heaven.


************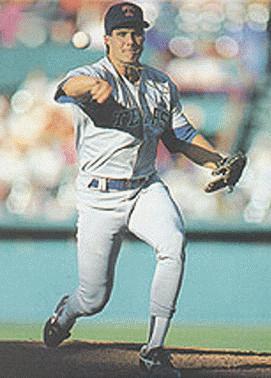 Jacob Luft of SI.com has listed his ranking of the AL rotations. Here are his picks, in order:


Boston


New York


Minnesota


Cleveland


Anaheim


Toronto


Oakland


Chicago


Texas


Detroit


Baltimore


Seattle


Kansas City


Tampa Bay


Not a bad list. In fact, Luft uses a lot of very valuable metrics in breaking down each rotation, including DIPS ERA. I like the order- I think it's a tough call between Boston and New York, mostly because it's tough to take Boston's rotation purely on "paper," because so much of it rests on the eventual health of Wade Miller. If Miller throws anywhere between 150-185 IP, then the Red Sox have the best rotation in baseball, better than New York. If he doesn't, and Wakefield is the #5 for a significant part of the year, it's probably fair to rate New York ahead. Let's look at the rotations when assuming Miller is healthy...

BOSTON________________________NEW YORK
Curt Schilling________________Randy Johnson
David Wells___________________Mike Mussina
Matt Clement__________________Carl Pavano
Wade Miller___________________Kevin Brown
Bronson Arroyo________________Jaret Wright

There's just too much to speculate on to really analyze. I will say that I specifically like the matchup in favor of the Red Sox between Clement and Pavano going forward, especially relative to what they're being paid. I think Clement's stuff will translate to the AL better, and age better. But we shall see. I really can't wrap my head around their signing Jaret Wright- if they thought the Jeff Weaver was bad, they have no idea. I can't wait for the first Ortiz vs. Wright AB. I'm stopping just short of guaranteeing a HR. That ball will be crushed, though.

Of course, anyone telling you there's something negative on-the-field about the Yankees getting Randy Johnson is insane. Bottom line, if they're both healthy, advantage Yankees. Johnson is good enough to dominate any type of hitter, but he also very specifically neutralizes Ortiz, an obvious point of nemesis for New York in 2003/4.

At the end of the day though, even as a Sox fan... the whole "Yankees v Red Sox predetermination" thing in the rivalry is getting really fucking old. There is life outside that 206.4 mile back-and-forth.

I think Tampa Bay is better than last in the AL- Kazmir was electric when I saw him pitch last year, Nomo could pitch some decent innings, and Brazelton could pitch better than 2004. Not very good, but not the worst. That I'd have to give to Baltimore. Their best starter is Sidney Ponson. Bruce Chen is their #3.

There's also some speculation that Kenny Rogers may retire which, if he does, automatically makes the Park/ Drese/ Astacio/ Young/ ?? the worst in the AL.



************




Which Boston Red Sox are you?


Bullshit Memorial, you scored as David Ortiz. You are David Ortiz!! You have a very sunny personality and always seem to be smiling, which makes you very well-liked. You consider yourself a great cook, which is your fave pastime other than slugging homeruns. Big Papi is the man!



| | | |
| --- | --- | --- |
| Manny Ramirez | | 93% |
| David Ortiz | | 93% |
| Johnny Damon | | 87% |
| Mark Bellhorn | | 57% |
| Kevin Millar | | 57% |
| Jason Varitek | | 53% |
| Theo Epstein | | 53% |
| Curt Schilling | | 43% |


Which Red Sox Player Are You?
created with QuizFarm.com


Gimme a break, it's the offseason...


______________________________

|