Red Sox Trade Mientkiewicz for Bladergroen...



Mientkiewicz for Bladergroen. One CROSSWORD answer nightmare for another...

The Red Sox have traded 1B Doug Mientkiewicz for mL 1B prospect Ian Bladergroen, effectively ending any and all speculation as to which of the two (Millar/ Mientkiewicz) was going to be dealt. It's not surprising which one was jettisoned- Millar is a more productive hitter and, when confined to 1B, can be pretty decent there. Doug is better with the bat than he performed in 04, and as great as his glove was, Millar was the sensible choice as an all-around package.




Bladergroen, who is 22, is a 6-foot-5 195 lb. power hitting 1B who, while putting up terrific numbers at the Single-A level last year, had his season cut short when he tore ligaments in his right wrist on the field. Here's a quote from Bladergroen on the injury from mets.scout.com:


"I had a torn ligament in my left wrist and they had to repair the cartilage. It was really a freak injury. I flied out to left field and when I was running back to the duguout, I couldn't get the batting glove off of my hand. The next day I had surgery and I had a cast on my arm up past my elbow. I took a few swings at the Instructs and it was still very tender so I didn't pick up a bat again until two weeks ago and it was still a little tender. Today (Tuesday) I hit about a bucket or a bucket and a half. There was still a little tenderness but I can tell its getting better. I am not in any rush so I'll take it a little slow. I have been able to continue lifting through all of this so at least I've been able to get some work done."


The injury looks, to me, to be a bit of a red flag. It was obviously going to be tough for Theo leverage-wise to get rid of one of these two players when GMs knew he had to. Baseball America had Bladergroen as the Mets #4 prospect, which is good- but consider that New York doesn't have a plethora of great minor league talent.

Either way, with Mientkiewicz's value being so low, and leverage being on the buying side of Doug's services, to get a prospect as promising as Bladergroen is quality. 2005 should be a very pivotal year for him, determining somewhat how he'll proceed with his career in light of the injury. If he can make a strong comeback in 05, things could pick up in his path to the MLB quickly. Apparently he's not a wiz with the glove around the bag, but certainly can hold his own. The Sox are now out from under Mientkiewicz's salary and got a decent prospect that may blossom, or may eventually be a quality trading chip.



************



The Academy Awards nominations were announced the other day, and while I don't go crazy for the Oscars at all, I do have to mention a couple things. First, the Best Picture nominees-


Sideways
Million Dollar Baby
The Aviator
Finding Neverland
Ray


Now, this happens every year to me. I get three that I've seen (the first three listed), one that I pretty much flatly refuse to see (Finding Neverland), and one I'd really like to see, but never did (guess which!).

Anyway, I'd love to see any of Sideways, The Aviator, or Million Dollar Baby win. They were all great. I'd have a real tough time picking the one I liked the best. Right now, it might be Sideways. When I made my year-end list, it was The Aviator. After walking out of Million, I couldn't imagine a movie being more moving.

So we'll see. I really don't care, but it'd be cool to see the small, character driven one (Sideways) win.

As for Best Director, it's between these dudes:


Clint Eastwood, Million Dollar Baby
Mike Leigh, Vera Drake
Alexander Payne, Sideways
Martin Scorsese, The Aviator
Taylor Hackford, Ray


The first thing I'd say is that I gotta see Vera Drake. Anyway, I'm really sorry Eternal Sunshine's Michel Gondry wasn't nominated- this is my chief problem with the Oscars anyway. They always go with the safe bets. Never a Spike Jonze, Michel Gondry, Wes Anderson, Paul Thomas Anderson, David O Russell, etc. Among these, it's a tough call, and for the simple reason that Martin Scorsese flat-out deserves it. Now, this wouldn't be an issue if they had just given him the Best Director award in the years he's deserved it- 1973, 1976, 1980, 1990, and possibly even 2003. But here, in 2004's award, he stands as being owed a win instead of necessarily earning it on this year's merit.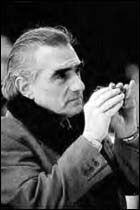 But that notwithstanding, he could still win and deserve it. I saw the aforementioned three of these movies, and all were well handled and told films, and if all things were equal, I'd be happy if any won. But I want Martin to win. So I'm guessing he won't.

Now, for Best Actor, which had the biggest travesty of omission for as long as I can recall (maybe back to no Bill Murray for Rushmore?). Paul Giamatti didn't get nominated for Sideways. WHAT?!


Johnny Depp, Finding Neverland
Clint Eastwood, Million Dollar Baby
Leonardo DiCaprio, The Aviator
Don Cheadle, Hotel Rwanda
Jamie Foxx, Ray


Pretty interesting to note that Foxx could go home with two Oscars in one night (he's nominated for supporting actor in Collateral too). He could be "two-time Academy Award winner Jamie Foxx." Who'duh thunk that three years ago? I bet he'll win, but I'd like Leo to. He was great as Hughes, and he's underappreciated I think.

But fuck, how do they rob Giamatti like that? Fucking ridiculous. A Sox fan no less. At least Spacey didn't get nominated.

Other than that, I just really hope Eternal Sunshine wins for Best Screenplay, Charlie Kaufman. Hilary Swank was great too. But in general, I'm not too concerned with it because ANY movie award that would neglect to award Hitchcock, Welles, Scorsese and many others in it's time (Pacino over Denzel in '92, Oliver! over 2001: A Space Odyssey in '68, Dances With Wolves over GoodFellas in '90, Redford over Scorsese in '80) isn't going to hold my attention.

But I'll watch.



************






Funny story- when perusing the Red Sox Roster, I noticed something: David Wells eventually DID get the number 3 for his jersey. There was a lot of speculation about this when he signed because of his Ruth-obsession, but at his press conference he was given the #30. Apparently, this was because Pokey Reese was still with the team officially, and instead of handing his number out, they instead bypassed the feather ruffling and elected to wait it out. Well, now that Pokey is a Mariner, Wells gets the "3". David Wells getting number 3 for the Red Sox is like when Nicolas Cage married Lisa Marie Presley.

I just think it's cool to have a Sox pitcher with a single-digit number. The only other one in MLB I can think of is Josh Towers in Toronto (#9). So it's a fun oddity.

'Cept of course, Babe never wore the number 3- or ANY number- with Boston. But oh well...

Anyway, here are the numbers assigned for new Sox so far...

Matt Mantei__________31
Matt Clement_________30
Wade Miller__________52
Edgar Renteria_______16
John Halama__________54
Ramon Vazquez________23
Jay Payton___________44

So Clement got the vacated #30, and it apparently Renteria was a #16 guy all along, and took #3 in St. Louis only when 16 was taken by Ray Lankford.

So that clears that up.

Finally, of these "new guys," I have a few nicknames.

Matt Clement_________"Zeke"
Edgar Renteria_______"Chopper"
Ramon Vazquez________"Vaz"
Jay Payton___________"Sweetness"
David Wells__________"Fatty Fatty Fatfat"



************



Food for thought...




______________________________

|