Vladimir Guerrero- 2004 AL MVP
PLAYER___________1st___2nd___3rd___TOTAL
GUERRERO, ANA_____21____5_____1_____354
SHEFFIELD, NYY_____5____8_____9_____254
RAMIREZ, BOS_______1___14_____9_____238
ORTIZ, BOS_________1___--_____5_____174
TEJADA, BAL_______--____1____--_____123
SANTANA, MIN______--___--_____2_____117
SUZUKI, SEA_______--___--_____1_____98
YOUNG, TEX________--___--_____1_____92




Vladimir Guerrero won the 2004 AL MVP, and just like the NL award, they got it right. Guerrero was both things- the player with the most actual value in the AL, and a nice confluence of "hype" necessary to get the media to vote for you. In other words, it's a small coincidence that the player who was most valuable won the award- mostly because baseball writers love it (for some reason) when a guy is on a team that beats the odds and skims into the playoffs, and he performs well down the stretch. This is true for Vladimir, as it is true of him the entire season.


39 2B, 39 HR, 126 RBI, 52 BB, 74 K, 15 SB, .337/ .391/ .598/ .989


When adjusting for park effects and factoring in his defense, Guerrero was certainly worthy. Let's look at VORP (value over replacement players) for 2004 in the AL, as listed by place in MVP voting:


Guerrero-- 93.2


Sheffield-- 63.8


Ramirez-- 70.0


Ortiz-- 73.1


Tejada-- 79.1


Whatever you think of the placement of the next four- and they certainly are all close enough to be argued up and down the list- Guerrero trumps the league. In the NL, Bonds lead with 144.6, Pujols next with 102. It's not a perfect metric by any means- but it's a nice look at a player's season above the average (or, replacement-level player). It takes baserunning and offense into account. Another quick metric is RC/27 (runs created per 27 outs), which is a rough average per 27 outs of the RC metric. Here's the top 5 in AL MVP, and their AL rank in RC/27 (Melvin Mora lead the league- finished 18th in MVP voting):


Guerrero- 3rd (8.29)


Sheffield- 11th (7.26)


Ramirez- 4th (8.25)


Ortiz- 5th (8.08)


Tejada- 22nd (6.56)


I would have put Ramirez ahead of Sheffield, though Manny's slight second half slump made it more negligible than it was when people originally stumped for Foot In Mouth Sheffield. Notice their rationale- "he carried the Yankees." Sure. 200 million. Four teammates getting votes (Jeter, Rodriguez, Rivera, Matsui). Carried 'em. Independent of that line of thinking, Sheffield had a great year, and top three was deserved, though 2nd isn't where I'd put him. Whatever.

The real losers here are probably Melvin Mora, Johnny Damon, Carlos Guillen and Travis Hafner. Melvin Mora, league leader in OBP, 5th in OPS- higher than Tejada and Sheffield- came in 18th, after people like Jeter, Ichiro, Blalock, and Konerko. Those guys had great years- just simply not as good as Mora. I had him as 5th on my "ballot."

Johnny Damon was the best leadoff hitter in baseball, getting on base at a ~.390 clip, hitting a career high 20 HR, scoring 123 runs (2nd in AL) and driving in 90 (batting first!), and played Gold Glove CF. He had a better year than Jeter, Michael Young, Ichiro Suzuki, Mark Kotsay, and maybe even Miguel Tejada (probably not though), and finished behind them. Not the biggest travesty, but as far as being wrong goes...

Carlos Guillen was, without a doubt, one of the more valuable players in the AL, and certainly the best SS overall. Better than Young, Jeter, and Tejada, all of whom finished well above him. His .921 OPS was 8th in the AL, and was done in a pronounced pitcher's park. He plays great shortstop defense and his 71.3 VORP was over ten better than his teammate, Ivan Rodriguez- who finished 10th. Guillen came in 25th.

Finally- a sum of Travis Hafner's 2004-

2nd in AL OPS


3rd in AL OBP


4th in AL SLG


10th in AL BA


t-16th in AL HR


9th in AL RBI


t-6th in AL 2B


Sure, he played DH. No, he didn't deserve to win. Don't you think though, he deserved ONE vote? Even a tenth place vote? Voters didn't. 74.1 VORP. Better than Sheffield.

Honestly, even though I wanted Manny to win (DHs just shouldn't be winning the award), I've always loved Vladimir. My favorite non-Sox. So I was glad to see him get props.



*************






The Washington Who Knows Whats signed Cristian Guzman and Vinny Castilla today to contracts designed to start a facelift on the moribund organization. Interim GM Jim Bowden inked Guzy (26) to a 4-year, 16.8 mil dollar deal and Castilla (37) to a 2-year, 6.2 mil dollar contract.

I think the Guzman deal is- prohibitively- good, while Castilla is a bad signing. At this point, unless you need a guy to hold down the fort at third for a prospect (which, unless I'm mistaken, the "Expos" don't), Castilla is a waste of money. At 37, he's coming off a Coors season (35 HR, 131 RBI) that was good- but only "good." In fact, even with the increased offense in the park, Castilla could only muster a .331 OBP and an .867 OPS. He is a prime candidate for a crushing down season next year, especially considering this-

a) .321/ .379/ .575/ .954
b) .218/ .281/ .493/ .774

The first line is Vinny at home. The second is on the road. You're Vinny Castilla. Why would you leave Colorado, exactly? Idiots like Bowden, I guess. He got two guaranteed years in his last contract. Why not?

I like Guzman because he's a good defensive shortstop that will conceivably only improve on grass from the 'Dome turf. Not much of a hitter yet, but he's a switch hitter, 26, and can run like a bastard. Four years carries him to 30, and at ~4 million per, they can always unload him later on for prospects. It could have been worse, given his budget. Four years is a bit much, though.



**************






Rick Reilly of Sports Illustrated, a writer I really really don't like, makes his case for David Ortiz as Sportsman of the Year. My vote would be either for Lance Armstrong or the Red Sox as a team- but whatever. A fun article. Gotta love this quote:


One time, he interrupted a press conference in Terry Francona's office before a game with Baltimore by poking his bucket-head in and declaring, "Don't worry. We're going to drink their beer and kick their ass!"
**************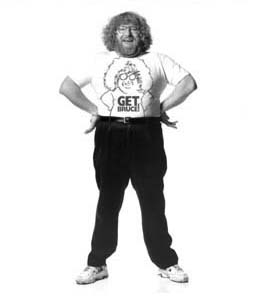 I saw Bruce Vilanch and Morrissey today in the space of 5 minutes at the Time Warner Building- Vilanch was eating (and wearing a Bart Simpson shirt), Morrissey perusing books at Borders. Very odd. I wanted to kick one right in the fucking belly, and the other- though I'm not a huge fan, I was so taken aback- such a giant musical figure... and there he was, looking at Newsweek at Borders. Really weird.



**************



And finally, a story that literally damn near made my year. This is a story so great, it's the best thing I've heard since the Sox won the World Series. Here's the picture, bash it with your mouse and read up. Great stuff.




THESE guys got beat up? WHAT?! No. No way. Uh-uh. They're clearly WAY too tough for that to happen...






______________________________

|