My Merry Xmas List...


This Xmas, I'll be posting my (surely ever-evolving) Xmas list. I'll come back and check and see what I got after the day. Should be fun. Right? RIGHT?!

Here goes...


*****************


I'm real bummed about Howard Stern going to Sirius radio. I'm happy he's getting away from the pain-in-his-ass FCC, and I'm sure his show will be just as great (maybe better) after he moves.

What I'm disappointed about though, is my imminent inability to listen to Stern in the future. I don't plan on paying for the radio because, even when it was great, I've never liked the radio. I don't listen to music there, I don't listen to talk radio- the only radio I DO own is a handheld walkman radio I found on the bus.




So it really isn't worth it for me to pay for a new radio and the service just to listen to Howard Stern- as much as I love him. The thing is- I only have the opportunity to hear him for, tops, an hour and a half every day (say 830-845 on the bus, from 9-1030 at work). I don't even do it with much regularity either. I would just like the option to remain. I understand why he left, but I'll still miss the odd opportunity to listen to him.

I hope his E! Channel show stays on too. I'll check back and update that.



*****************




Jim Belushi seen here blowing...
Apparently Jim Belushi, the multi-talented performer/ entertainer/ gifted funnyman/ victim of spurious nepotism charges, is suing his neighbor...
Julie Newmar. That's right- Catwoman. Suing her.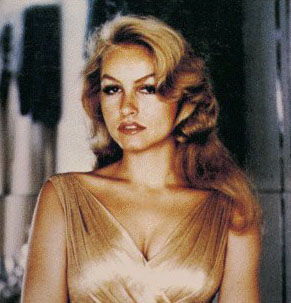 LOS ANGELES, California (Reuters) -- Actor Jim Belushi has filed a $1 million lawsuit against his next-door neighbor, veteran actress Julie Newmar, accusing her of a "campaign of harassment" designed to drive Belushi from his home.

Belushi claims that Newmar, 71, who played the villainous Catwoman on the 1960s "Batman" TV series, destroyed a fence and landscaping on his property, spied on his family and blared loud music into his backyard.

The star of the ABC sitcom "According to Jim" also accused Newmar of spreading "defamatory statements" about him, calling him a "peeping Tom," "voyeur" and "sick."

The suit, filed last week in Los Angeles County Superior Court and made public on Monday, describes Newmar's behavior as "an effort to force Belushi to move from his home." It said her conduct has grown "more alarming and her harassment and apparent obsession have become more intrusive" over time.

The lawsuit makes no mention of why Newmar would direct such conduct at Belushi.

Neither Newmar nor a spokesman was immediately available for comment.

Belushi's lawyer, Brian Wolf, said he knew of no specific reason why Newmar might be angry. "If she disapproves of some of her neighbors ... for whatever reason -- I don't know if it's aesthetics or leaf blowers or what the issue is -- she engages in this campaign of harassment and annoyance to try to force them to move," he told Reuters.

The suit seeks at least $1 million in damages and a court order against Newmar, whose credits also include "Seven Brides for Seven Brothers" and "Li'l Abner" (as Stupefyin' Jones).

Newmar was involved in a highly publicized dispute with neighbors several years ago over the noise created by gardeners using gas-power leaf blowers.
This story
is from CNN.com.
Man, you gotta love the train wreck that is the life, career and creative output of one James Belushi. Arguably the most singularly talentless person in the public eye. I'm totally rooting for Julie Newmar, and if she does win, we can all come together and say...
"Belushi Sucks Poo! Thanks for EVERYTHING, Julie Newmar."
*****************
At 42 years old, Roger Clemens has won his SEVENTH Cy Young Award, beating out Randy Johnson and Roy Oswalt. Clemens long ago entrenched himself over Tom Seaver as the "Greatest Pitcher of the Post War Era" (along with maybe Maddux), and firmly placed himself among the top ten pitchers of all time (possibly top five). I can't stand the guy, but it is literally impossible not to acknowledge what he's done in his career, and I count myself luck to have seen him pitch. Even if he coughed up LCS Game Sevens two years in a row...
Clemens beat out Randy Johnson with 23 of 32 first place votes, but probably shouldn't have. It seems voters were turned off by Johnson's W/L record, but take a look at the numbers; I think Johnson clearly had the better year.
Clemens: 18-4, 2.98 ERA, 1.16 WHIP, 218 K, 9.15 K/9, 214.1 IP, .217 BAA
Johnson: 16-14, 2.60 ERA, 0.90 WHIP, 290 K, 10.62 K/9, 245.2 IP, .197 BAA
To me, a couple things put Randy over the top: the strikeouts, the WHIP, and the innings pitched. Johnson kept far more balls out of play than Clemens, pitched 31 more innings, keeping a bad bullpen team in more games and kept guys off base.
Add to that the fact that Johnson won 16 games on a 51 win team, while Clemens won 18 on a 92 win team. Johnson accounted for 31% of his team's wins- Clemens 19%. Johnson was better than Clemens in every pitching category imaginable save for the largely irrelevant W/L record- granted, Clemens did as well as he did in a hitter's park- but Johnson was still a bit better. This Clemens Cy win isn't as ridiculous and egregious as his win with the Yankees in
2001
(when every pitcher finishing below him in the top 6 had a lower ERA and better WHIP- Mussina even had more K's and more IP, while Mulder had more wins and Moyer the same- 20. A beguiling choice to be sure: he won the award on the strength of his streak of wins to open the season)
Simply put, the Cy Young Award voters are far too hung up on W/L records, which as we all know are far too independent of the pitcher's performance to gauge their worth.
Clemens didn't deserve it this year, but he pitched well enough to come close, so it's not the end of the world.
*****************
I'll be keeping sharp tabs on all the Hot Stove Baseball shit, but I don't feel like postulating on every ridiculous rumor, including the myriad scenarios in which the Yankees get every available free agent.
I'll post and look at signings, trades, as they happen.
My hope is that the Sox sign Pedro at the currently offered deal (very close to the Schilling extension last year- 2 years, 26 mil, option for third year @~12 mil), get Cabrera signed for sensible money, and if Varitek holds on what Boras is demanding- five years with a no-trade clause- tell him to shove it up his ass and trade for a Michael Barrett type.


______________________________

|