The Incredibles- Incredible.
Not to get all Gene Shalit on you, but The Incredibles was effing incredible.




On opening night this past Friday, the Woman and I went to see the new Pixar film, The Incredibles at Lincoln Center Theatres. Our show was in the IMAX theatre, which is always extra cool, and I had heard the new trailer for Star Wars III: Revenge of the Sith was opening before the movie. Pumped.

The Woman and I fought the urge to storm Frances McDormand as she and her kids (and, presumably, their friends) left the showing before ours. She was on her cellphone and with her kids. We would have felt like total assholes bugging her. Oh well. We saw her, so that's cool.

When they play a non-IMAX movie on that screen, it takes up not a third of the screen- it has to be filmed on like fifty million millimeter film stock or something. It's fun sitting in that theatre, with the huge auditorium feel and the five story screen- but it's still odd to watch a movie unhemmed by the edges of a normal movie screen.




The impression I got of the movie from that first teaser trailer showing a fat, middle-aged Mr. Incredible squeezing into his suit was that it was straight premise comedy. This, of course, was fine with me- I loved Finding Nemo, but I was ready for a laugh-out-loud type from Pixar this time around. That trailer still is one of the absolute funniest ones I've ever seen. I was looking forward to it from day one.

Initially, I was a bit put off- it was funny, but it was obviously not a straight comedy. Like many Pixar movies, it was a bit more, a bit bigger. About fifteen minutes into the movie, I started to catch on to this fact. That's when I started to absolutely fall in love with the movie. Without a doubt it's one of the greatest animated films I've ever seen- better even, than Nemo- and one of the more entertaining movies period that I've ever seen. It exists on a lot of levels, but for pure, through and through fun, excitement, enjoyment, Incredibles is absolutely peerless. The characters are fun, cartoon-y, but with real weight on their plight. How many animated films have you seen with a lead character undergoing a mid-life crisis? With a sharp wit regarding the world of high fashion? Pixar movies really aren't "animated movies"- they've achieved the status of great films, period.




In fact, Pixar has become one of those very few remaining great things in life- reliably great, never-let-you-down type things. A Bug's Life was a slight disappointment (in the Seven Samurai/ Magnificent Seven/ The Three Amigos motif), but otherwise, all the Pixar films- Toy Story, Toy Story 2, Monsters, Inc., Finding Nemo, The Incredibles- have been some of the greatest films of the last 15 years. Innovative, always improving and more stunning than the last. Brilliantly acted, beautifully written (especially Monsters, Inc. and The Incredibles) and just flat out remarkable looking pieces of work. There were scenes in The Incredibles, especially on the tropical island, that just made you shake your head in amazement.

Of course, come Oscar season, the idiotic pop-culture referencing yuk-fest that is the Shrek franchise will probably win Best Animated feature. Awesome. Mike Myers is fucking dead to me.




The Star Wars trailer was cool, too. Not as great as the one for the first prequel, but then again I hadn't been burned yet by how hard that and the subsequent one sucked, so that could have something to do with it. The more I read about this movie, the more sure I am that I'd like it. I'd link to the trailer here, as it is online, but they've got some goofy system wherein you have to sign in on AOL.com, or you have to have a membership to some nerd site. Go to AOL, check it out. It's pretty cool.



****************



Apparently our newest Operation in the War on Iraq, in which we invade and wipe out Fallujah, is being called "Operation Phantom Fury."

Wasn't Phantom Fury in the Thundercats or something?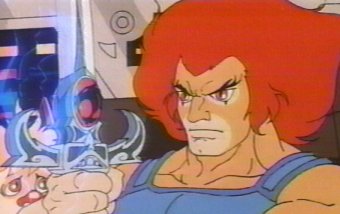 ****************



NOT David and Manny...



Manny Ramirez and David Ortiz have been participating in the now yearly tradition of US All-Stars competing in exhibition games against Japanese All-Stars. Manny and Papi have comprised the heart of the order for many of the games thus far (though Manny has had to bow out of the remaining 3 games with a sore hammy), and in Game One, Ortiz was named Most Important Player for his game winning RBI in the 8th inning.




Of course, it was in the third game that the Japanese came to know the full and awesome might that is "Oki-no-Chichi" (apparently, this is Japanese for "Big Papi"). On a 3-0 count, Ortiz smashed a home run estimated at 514 feet- farther, in fact, than Ted Williams' famous red-seat shot at Fenway (~509 ft.). It is truly a Mantle-ian smash, a Ruth-ian blast, a Williams-ian shot. Here's a link to the CNN converage of the HR, and as you can see from the replay, it was still going hard as it hit the back of the entire building. Just unreal. I wish I could have seen that ball hit at Fenway, at Wrigley, at PNC Park. He is truly carving a name for himself. God damn, what a great get. He's on our team!

There's a lot of great coverage of this in the Boston Globe online under the Red Sox, including pictures and game recaps. Not the most important stuff in the world, but god am I starved for baseball.



****************




Jason Bay of the Pittsburgh Pirates and Bobby Crosby of the Oakland Athletics won the NL and AL Rookies of the Year, respectively, heading up a pretty weak rookie class. Crosby fell just one vote shy of a unanimous selection, making him the 6th Athletic in team history to win (Harry Byrd '59, Jose Canseco '86, Mark McGwire '87, Walt Weiss '88, Ben Grieve '97). Jason Bay beat out Khalil Greene, his only real competition.




Crosby hit .239 with 22 HR and 64 RBI




Bay hit .282 with 26 HR and 82 RBI



****************



A friend of mine (the same one who was kind enough to grace me with a signed copy of the Sox edition of TIME by Terry Francona) had tickets to the Giants v Bears game Sunday, and instead of sitting around spending more time in front of GTA: San Andreas, I decided to go. I hate football- but it was a nice day, the tickets were free, and shit like that can always be fun.




Anyway, so we got on the brilliant Port Authority Giants bus- $3.50 one way!- and got to the Meadowlands in New Jersey in ten minutes. It struck me as something that would be a bit of a pain in the ass- but it literally couldn't have been easier. Game started at 4, we got there ten minutes before. Weather was nice- totally clear, 65+, no wind. Easy street.




I never could have anticipated how fun it would be to see the home team lose. I honestly didn't care who won either way- again, I hate football. But when the heavily favored home team plays like a Pop Warner squad and gives away a 14-point lead… damn, from up where we were sitting, it seemed funny to me. Add to that the perfect view we had from behind one of the end zones… pretty sweet. The hot dog was friggin great too, a nice foot long and mustard. Pepsi only though, which was a major negative. Good times all around, though.



****************



This is a terrific little piece on the Red Sox equipment/ uniforms/ etc. that has gone into the Hall of Fame after their recent WORLD SERIES FRIGGING CHAMPIONSHIP. Among them- Curt's "K ALS" tendon cleats, Orlando Cabrera's glove, Johnny Damon's hat and bat, and various other jerseys/ hats/ cleats/ bats. Interesting stuff.


****************
Tangotiger Online is asking fans to evaluate (scout) MLB defensive players. Take some time, help Tangotiger out. It's fun, too.


______________________________

|