Two Point Five.
BOS 2
TEX 0
WP- Pedro Martinez (15-5)
LP- John Wasdin (2-3)
SV- Keith Foulke (27)
HR- M Ramirez (37), B Mueller (11)




I don't even know what to say. That's win number 10 in a row- 16 of the last 17, 11 straight at home- and coupled with a Yankee loss to Baltimore, the Red Sox now sit a mere 2.5 games out of first place in the American League East.





Oh, yea, George, it's right here. Next to the "Shift" key. You're welcome.



What's more, the Yankees' starting pitching woes continue: Kevin Brown broke his non-pitching hand when, in a fit of rage over his, uh, pretty decent outing, he punched a clubhouse wall. I probably don't even need to comment on how stupid and selfish that was.

Manny Ramirez homered for the 37th time this season in the first, Bill Mueller added a solo shot, and Pedro cruised to his 15th win on the strenght of 9 K, 4 H and 1 BB yielding no earned runs. Pete was dominant all night, shutting down one of the best hitting teams in the AL.




More good news: justice was served today when Major League Baseball revoked both Gabe Kapler and Trot Nixon's 3 game suspensions for their part in the brawl with the Yankees on July 24th. It puts a period on what was fairly obvious to see- Tanyon Sturtze instigated a headlock from behind, and Nixon came to protect him. Neither warranted a suspension, and Sturtze deserved more.

It's pretty rare when a brawl is 100% one team's fault. I say that with the comfort of total objectivity- A-Rod can blame that on anyone he wants, but it was absolutely, completely, no arguments, without-a-doubt his doing. For the record.




Speaking of "the record," GQ Magazine has a cool little article in their newest issue- an "oral history of Manny Ramirez." I'm going to include some exerpts from Nate Penn's fine piece (it isn't available online upon my last checking). I'd also like to note the number of advertisements in GQ is unbelievably staggering.


Joe DeLuca (retired scout, Cleveland Indians): "The day he signed [with the Indians], I almost jumped off the floor about three feet. I remember showing Manny exactly what he had to do. I printed his name out, and I says, "You gotta sign it exactly like this. On this line." And doggone if he didn't sign it where his mother had to sign it. So you can't erase it. So you ca't do any crossouts. So I gotta type a whole new one out. I still have that original contract."
"Video" Joe Catalioti(retired video coordinator, Cleveland Indians): "When he'd get to the ballpark, he'd go to his locker and actually get undressed, and then he'd come into the locker room stripped down to nothing trying to hug everyone hello..."
Brian Graham(Manny's manager, Canton-Akron Indians, AA, 1992): "He would come into the clubhouse, take his street clothes off. He'd go to one person's locker, put their long underwear on. Go to another person's locker; if they had a T-shirt he liked, he'd put it on. He'd just pick socks out of someone's locker, put those on. He'd use your belt if that was nearby. He'd put your hat on. If he liked your shirt of shoes, he would wear them home at night.
Jeff Manto (Cleveland teammate, 1997-1998): "One game he hit a ball to right center field, and he went in standing up when he should have slid. He was tagged out. Well, Mike Hargrove lost his mind. But the one thing you don't do with Manny is confront him. Because he's real sensitive when it comes to that. So Hargrove's yelling- not at him, but at the dugout. Manny gets the message. So his next at bat, he hits a double down the line, and the infielders line up for the cutoff. Nobody's covering 2nd base. Well, Manny slides. Pops up. Claps his hands. Looks at Hargrove. Gives him two fists. Everybody started laughing."
Manto: "You know how the players, after they hit a home run, they cross home plate and point to the stands? He was doing that. So one day we asked him: "Manny, who are you pointing at?" "Nobody." "You have nobody here? Then why are you pointing?" He goes, "Well, everybody else does it."
Catalioti: "Manny used the video room religiously before every game. He studied the way pitchers pitched him based on what the counts were, were there people on base, whatever the situation happened to be."

DeLucca: "Some people say to me, "How smart is this guy? He's stupid." Let me tell you something: you can't be stupid and be a hitter like he is."

Ramirez: I like to read; I read on the plane all the time. Right now, I'm reading the book of the movie Troy."
Charlie Manuel (Manny's former manager/ coach- Cleveland, minor leagues): "I love him. He's like my son."


A really nice and fun article. The rub is, Manny's is an eccentric, but he's a hard-working, great guy that everyone loves. He has the great weird stories- the thousands of dollars stashed in his glove compartment, the stories of eyebrow-plucking and rouge-wearing, using other people's bats habitually, his ever-changing looks ("I like to change looks. Like Lenny Kravitz."), wearing- and losing- a $50,000 earring at a AAA rehab game, his website- Manny is Manny.

It looks like a good number of interesting movies are due to come out by year's end- here's a list of one's I'm really looking closely at:

The Life Aquatic with Steve Zissou (d. Wes Anderson, s. Bill Murray, Owen Wilson)
The Incredibles (Pixar)
The Aviator (d. Martin Scorsese, s. Leonardo DiCaprio, Kate Beckinsale)
Alexander (d. Oliver Stone, s. Colin Farrell, Val Kilmer)
Ray (d. Taylor Hackford, s. Jamie Foxx)
Finding Neverland (d. Marc Forster, s. Johnny Depp, Kate Winslet)
I Heart Huckabee's (d. David O Russell, s. Jude Law, Jason Schwartzmann)
Mr. 3000 (d. Charles Stone, s. Bernie Mac)
The Last Shot (d. Jeff Nathanson, s. Matthew Broderick, Alec Baldwin)
Lemony Snicket's A Series of Unfortunate Events (d. Brad Silberling, s. Jim Carrey, Meryl Streep)
Meet the Fockers (d. Jay Roach, s. Ben Stiller, Robert DeNiro)





Steve Zissou!!



A few new records waiting to be released too...

Interpol- Antics
Elliott Smith- From a Basement on the Hill
Beck- Title TK
Johnny Cash- American 5
The Faint- Wet From Birth
Brian Wilson- Smile
Jon Spencer Blues Explosion- Damage

I was working uptown next to Clinton's hospital today, and walked by on my lunch break, seeing a gaggle of reporters and press conference set-ups. I remember actually thinking, "I wonder if Gerald Ford died?" Then I started thinking of Dana Carvey as Tom Brokaw... long story short, I ended up watching Wayne's World tonight. Cos Clinton had chest pains. Gotta love that ripple effect.




Hopefully, hopefully, hopefully- Hurrican Frances is gentle. God, that must suck to live in FLA this time of year.




Since I love Serena Williams so much, here at Bullshit Memorial we're going to try and keep track of what I hope will be another US Open title for the goddess. What a fucking cool girl. God damn. Anyway, Serena did win today in straight sets Tatiana Golovin. Huh? Golovin. Oh.

This is sort of like if you claimed to be a huge fan of movies, but had only seen one- but that ONE is like, Rushmore or something. I don't claim to love tennis though. So the analogy falls apart a bit. GO SERENA!


"I know this PLAYLIST! is killing you!"


George Harrison- "I'd Have You Anytime"
Gram Parsons- "Return of the Grievous Angel"
Hank Williams- "Your Cheatin' Heart"
Interpol- "Stella Was a Diver and She Was Always Down"
Joni Mitchell- "Help Me"
Tenacious D- "Inward Singing"
Tenacious D- "Kyle Quit the Band"
Stevie Wonder- "All Day Sucker"
Rufus Wainwright- "In a Graveyard"
Rolling Stones- "Mother's Little Helper"
Queens of the Stone Age- "Feel Good Hit of the Summer"
Queens of the Stone Age- "In the Fade"
Robert Johnson- "Hellhound on My Trail"
REM- "Electrolite"
Public Enemy- "Welcome to the Terrordome"
Prince- "Cream"
PJ Harvey- "To Bring You My Love"
Pixies- "Bam Thwok"
Pixies- "Caribou"
Nirvana- "Sliver"
My Morning Jacket- "Mahgeeta"
Modest Mouse- "Satin in a Coffin"
Minutemen- "The Big Foist"
Marvin Gaye- "Got to Give It Up (Part 1)"
Stevie Wonder- "Golden Lady"
Wu-Tang Clan- "Shame on a Nigga"
Velvet Underground- "Sweet Jane"
Velvet Underground- "Cool It Down"
Velvet Underground- "Head Held High"
Velvet Underground- "Train Round the Bend"
Velvet Underground- "Oh! Sweet Nuthin'"
Urge Overkill- "Positive Bleeding"
John Cale- "Charlemagne"
Kings of Leon- "Red Morning Light"
Metallica- "One"
Minutemen- "West Germany"
Nirvana- "Drain You" (live)
Nirvana- "Aneurysm" (live)
Nirvana- "Lithium" (live)
Nirvana- "Blandest"
Pixies- "I Bleed"
Stevie Wonder- "Love's In Need of Love Today"
Wu-Tang Clan- "C.R.E.A.M."
Big Star- "The Ballad of el Goodo"
The Breeders- "Lime House"
The Desaparecidos- "Man and Wife, The Former (Financial Planning)"
Elliott Smith- "Bled White"
Stevie Wonder- "Knocks Me Off My Feet"


The three greatest voices in modern recorded music, in no order:


Stevie Wonder


Wilson Pickett


Otis Redding


I will NOT argue this.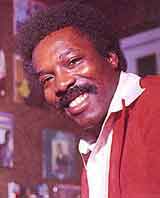 ______________________________

|