My Favorite Pitchers of All Time
I didn't, obviously, see all these guys while they pitched- but I love reading about them. Here they are, in chronological order.


Lefty Grove, LHP 1925-1941 | 300-141 | 3.06
fastball, curve, forkball


Wilber "Bullet Joe" Rogan, RHP 1920-1938
drop curve, fastball, palm ball, spitball, forkball, slider, side-arm curve


Sandy Koufax, LHP 1955-1966 | 165-87 | 2.76
fastball, curve, change


Bob Gibson, RHP 1959-1975 | 251-174 | 2.91
rising fastball, slider, sinking fastball, curve, change


Juan Marichal, RHP 1960-1975 | 243-142 | 2.89
slider, fastball, change, curve, screwball


Luis Tiant, RHP 1964-1982 | 229-172 | 3.30
fastball, slider, curve, slow curve (as changeup), palmball, knuckleball


Tom Seaver, RHP 1967-1986 | 311-205 | 2.86
four-seam fastball, two-seam fastball, slider, curve, change


Dan Quisenberry, RHP 1979-1990 | 56-46 | 2.76 | 244 Sv
sinker, curve, change, knuckleball (RARELY)


Greg Maddux, RHP 1986- | 303-172 | 2.92
fastball, circle change, slider, cut fastball, splitter, sinker, curve


Pedro Jaime Martinez, RHP 1992- | 182-73 | 2.66
riding fastball, change, hard slider, cut fastball, curveball


Pitch selections from Neyer/James Guide to Pitchers

Some notes on this- firstly, Pedro is my favorite player/ pitcher of all time. The rest are all more or less tied for second. It's interesting to note that Pedro compared to Koufax based on raw numbers brings Pete out on top, and pretty strongly. Of course, Koufax retired before he hit a decline phase in his career, and there's no telling how dramatic Pedro's will be (if he chooses to pitch through it).




Next, you might wonder- "Quisenberry? HUH?" Here, I'll relate an anecdote from Bill James Historical Baseball Abstract...


Dan Quisenberry had neither the body nor the ego of a major league athlete, and yet he was one of the best. He was a skinny man with a long nose and small teeth and a pencil moustache, and he was a beautiful man.

I couldn't say that we were close, but Quiz and I did a radio show together one summer... some of you may remember it. He was funny and quirky, and he was brilliant. Quiz used to play a game with Denny Matthews, Royals broadcaster, which tells you something about him. "Your word for today is 'homily,' he would tell Matthews, or 'xenophobic,' or 'divaricate.'"

"Your word is 'penumbra,'" Matthews would respond, or "triumvirate" or something. Denny would have to figure out some way to work the word "homily" into his broadcast without the listeners realizing that anything was going on, and Quiz would have to figure out some way to work the word "penumbra" into his post-game interview.

One time a guy called up the show, told us about a time when he was ten years old and met Quisenberry in a grocery store. He asked for his autograph, which Quis gave, but then Quis started talking to him, just like (he would say years later) a real person... Quis wound up playing catch with the kid for twenty minutes in the parking lot... I never knew anyone who would give an unexpected answer to a question more often than Quiz, unexpectedly honest, unexpectedly profound, or just off-the-wall. "I never asked 'Why me?'" he said about the brain tumor. "Why not me?"


Quiseberry was one of the most remarkable control pitchers of all time, especially (or because of?) his being a sub-mariner. In 1,043 career IP, Dan Quisenberry threw FOUR wild pitches. Four. Along with that, he had only 162 BBs, a remarkable feat alone, but even MORE remarkable when you consider that 70 were intentional. Dan Quisenberry walked 92 batters unintentionally in 1,043 career innings. For a reliever, that is astonishingly valuable. A groundball pitcher, Quiz never piled up baserunners. In his salad days he averaged well over 100 IP with a ~2 ERA of relief ace pitching a year. A really cool guy with a fun, unorthodox delivery and another character in baseball's illustrious history of such types. A brilliant man from all accounts.

Quiz died of a brain tumor in 1998 at 45. He was also a remarkable writer, an excellent poet.




I'm not entirely sure what gets me so riled up about Seaver- I think he's the consummate power pitcher of post WWII baseball- something has always drawn me to him. His 1971 season, pitching for a .500 Met team, had him at 20-10 with a 1.76 ERA and 289 K, both career highs. He pitched 286.3 innings with 21 CG and 4 SO. His ERA+, also a career best, was 193. I just really like him- he says whatever he's thinking, he's usually right, and the sight of him winding up and nearly turning the Earth on it's axis with his pushoff towards the plate is brilliant to watch. Possibly the most mechanically sound pitcher of all time.




Juan Marichal almost never made the Hall because of his infamous brawl with the Dodgers Johnny Roseboro in 1965. It was a weird fight- Marichal had knocked Maury Wills down early (the teams, rivals anyway, absolutely hated each other), and by the time he came to bat in the third against Koufax it was likely something would be done. Why Roseboro decided to take retaliation into his own hands in fairly unorthodox fashion as the catcher I do not know- but there he was, humming the return throws to Koufax under Juan's ears and nose. Marichal got sick of it, and bashed Roseboro over the head with his bat, splitting his head open to the tune of 14 stitches.

The two are friends to this day.




The title of "Greatest Pitcher Who Ever Lived" really comes down to two men: Walter Johnson and Lefty Grove. In the long run, I think I'd have to begrudgingly give the title to Johnson... but Grove makes it tough. Lefty threw 3,940 career innings and had a 3.03 career ERA. I've always found his face a little unnerving. He was a really "salty" looking fella- someone who didn't care if he missed a shower here or there. There's something fun about a guy like that- one of baseball's historical figures, and he looked almost like he was homeless.

Bill James tells a funny story about Lefty Grove- a man who was pissy, moody, and focused on one thing- winning. His manager for the Philadelphia Athletics, Connie Mack, was not. He was a God fearing man who never swore, rose his voice, or caused any sort of scene. After losing a very tight, important game one year, Grove returned to the clubhouse and went berserk, throwing things around, screaming and ranting. Mack entered to calm things down. Grove was still pissed.

"To hell with you, Mack," Grove screamed. "To hell with you!" He stormed out. Mack nodded, and added softly,
"To hell with you too, Robert."




The only of my favorite pitchers of all time I've ever met. A tough motherfucker, one of the great "big game pitchers" of all time-- and redefined the idea of "fun to watch" regarding a baseball player. Lu-is.




Can you IMAGINE hitting off this guy? Bob Gibson strikes me as being one of the most intimidating presences in major league baseball history, and I don't think I'm alone in thinking that. He didn't post a 1.12 ERA in 1968 (258 ERA+!) for no reason. Look at him- he looks like a fucking eagle coming in to shred the timid. Wow. Routinely threw around 300+ innings a year, struck out ~275, and had a 2-1/ 1.89/ 92K/ 81 IP/ 8CG record in World Series play.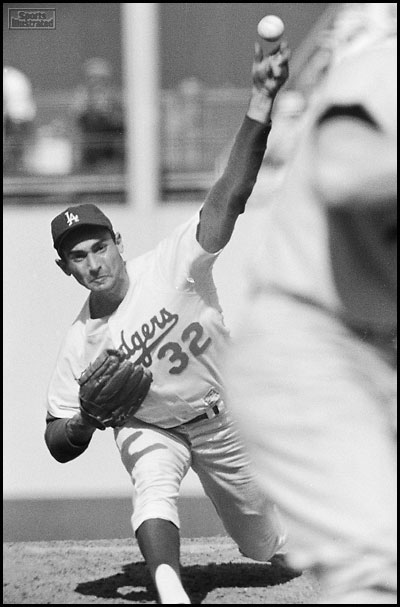 I think I always loved Koufax because I linked him in my head with Pedro somehow- but also because there's something intriguing about a guy that was all dominance- no aging, no decline, no nothing but sheer genius. Sandy Koufax- along with (I'm told) Jim Brown in football- retired at the absolute height of his game- possibly the highest point at which any player has ever retired. 385 Ks in 1965. Unreal.

The rest are pretty self-explanatory. Pedro will always be my absolute favorite, and I explained my love for Bullet Rogan at length here already. Greg Maddux is just unbelievably fun to watch, and I got to see him constantly, in his prime. Also saw him pitch against the Mets in 2000 in September. Lights out.


______________________________

|