Yes, I Love Technology.
The Broseph came this weekend. A recap-

First, we saw Napoleon Dynamite with the Woman- a good time had by all. I still love that post- credits sequence, complete with Kip's serenade of LaFawnduh and Napoleon's gift of a tamed Honeymoon Stallion.

Excellent.

Of course, what was arguably the highlight of the weekend was leaving the apartment for the movie and watching a comedy legend pass by our building's front door.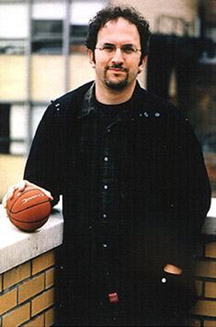 The great, great Robert Smigel. Now, as you know from this entry, I am a fucking genius when it comes to picking people out of a crowd- or celebrities on the street, as it were. I'll quote myself:


Meanwhile, whilst the Woman and I walked to go see Collateral, I engaged in what is most certainly my gift- identifying people from TV and movies, etc. in public. On the corner of York Ave and 86th St, I spotted Jesse Friedman, one of the subjects of the film, Capturing the Friedmans with his wife and children. And, I noticed him as his BACK WAS TURNED TO ME. I know, it's amazing. But it's true. The Woman pleaded to walk ahead (and a little out of our way) to make sure it was him, and we did- and it was.


Even given this, the Woman still had the audacity to question my findings. He walked right by our door as we were leaving, I knew it was him. We followed behind him cos the Broseph wanted to meet him- and I knew it was him. We walked after him into my Duane Reade- and I knew it was him. She even hemmed and hawed while the Broseph confidently approached Smigel to profess his love to the single greatest sketch comedy writer in the history of recorded civilization. Smigel was unbelievably kind- even asked him what his name was and all that.

If you're wondering why I didn't approach the man... I figured it's less likely to make a person feel comfortable approaching him in twos... and I let the Broseph say hi. No, I'm not a pussy. Anyway- here's his imdb.com list of credits.


Actor - filmography

"Crank Yankers" (2002) TV Series (voice) .... Simir (2003)
Osbourne Family Christmas Special, The (2003) (TV) .... Triumph the Insult Comic Dog
It's a Very Merry Muppet Christmas Movie (2002) (TV) (voice) (as Triumph the Insult Comic Dog) .... Triumph the Insult Comic Dog
Punch-Drunk Love (2002) .... Walter the Dentist
"TV Funhouse" (2000) TV Series (voice) .... Fogey/Xabu/Triumph/Rocky/Various
Little Nicky (2000) (voice) .... Mr. Beefy
Wedding Singer, The (1998) .... Andre
Tomorrow Night (1998) .... Mail Room Guy With Glasses
"Dana Carvey Show, The" (1996) TV Series .... Various
Happy Gilmore (1996) .... I.R.S. Agent
Billy Madison (1995) .... Mr. Oblaski
Wayne's World 2 (1993) .... Concert Nerd
"Saturday Night Live" (1975) TV Series .... Various (1991-1993)


Writer - filmography

Night of Too Many Stars (2003) (TV)
"TV Funhouse" (2000) TV Series (writer)
Saturday Night Live: 25th Anniversary (1999) (TV)
"Dana Carvey Show, The" (1996) TV Series (writer)
"Late Night with Conan O'Brien" (1993) TV Series (1993-)
Lookwell (1991) (TV)
"Saturday Night Live" (1975) TV Series (1985-1998, 2000-)

Producer - filmography

"TV Funhouse" (2000) TV Series (executive producer)
Saturday Night Live: The Best of Chris Farley (1998) (TV) (producer)
"Dana Carvey Show, The" (1996) TV Series (executive producer)
Lookwell (1991) (TV) (producer)
"Saturday Night Live" (1975) TV Series (co-producer) (1990-1992)

Director - filmography

"Saturday Night Live" (1975) TV Series (segment "TV Funhouse") (1996-)



We watched some Da Ali G Show, deciding that Borat may be one of the funniest characters in TV history.





"My sister voted best sex-in-mouth in all of Kazakhstan. She number two or three prostitute in whole country..."



Also, Borat's song at the Country Western Bar may be the catchiest song you just flat-out can't allow yourself to sing to yourself in public. "Throw the Jew down the well/ So my country can be free/ You must grab him by his horns/ Then we throw a big party."

See?





Mmmm...MEXICAN FOOD!



The next night just the Broseph and I went to a LATE showing of Collateral, a thoroughly great movie that got a LOT better the second time around. This is saying a lot considering I found it to be one of the best movies I'd seen in a long while. The highlight of the movie trip? The Churros. Mmmmm, the sweet, hot cinnamon-y Churros. They DO smell better than they taste... but they still taste like nirvana-butter.

The Broseph was also treated to approximately 800 free songs for his new iPod from the Bullshit Memorial Record Collection. You're welcome, you miserable piece of shit.

Finally, to top off the weekend, the Boston Red Sox won, AGAIN.




After dominating all game and the Red Sox jumping out to an early 4-0 lead, Lowe let the White Sox BACK into the game with a devastating 2-run HR to Carlos Lee. Down 5-4 in the 8th, Manny Ramirez and David Ortiz leaned on two straight White Sox pitches to take a 6-5 lead they would not relinquish. Timlin and Foulke pitched in some clutch 8th and 9th innings, respectively, and the Sox won their 6th in a row. They're going into a stretch in which they'll face the Toronto Blue Jays, Detroit Tigers and Anaheim Angels. They have a 1 game lead on the Texas Rangers and Anaheim Angels as well as having cut the Yankees lead to 5.5 games. They're playing well, but they're playing well against bad/ inferior teams. Very good, but the stretch from Aug 31st- Sept. 8th may determine the season in large part. Ana, Tex, and Oak wait and give the Sox ample opportunity to run away with the Wild Card. With the exception of the Yankees for 6 games, the final 20 games are an easy schedule. I like our shot at the Wild Card this year.

BOS 6
CHI 5
WP- Curtis Leskanic (2-5)
LP- Damaso Marte (4-5)
SV- Keith Foulke (21)
HR- D Mientkiewicz (6), M Ramirez (33), D Ortiz (31), C Lee (24), P Konerko (31)

It's worth noting that the Woman's nickname for her fellow Eastern European Doug Mientkiewicz is brilliant. Brodder. It means "brother." Was that obvious? Sorry...




After I enter this post, I am CERTAINLY looking forward to HBO OnDemand putting the entire second season of The Wire on tonight. I've caught up with the first season, and look forward to getting up to speed with the second season before the third season premieres September 19th. Awesome fucking show, and I've heard the second is better than the first season. Can't wait. I love you, OnDemand.




______________________________

|