I drew a COOL picture today...
UPDATE-




Another nasty toy found. Warrants mentioning.




Seriously, how the fuck do suit-and-tie-wearing types survive the summer? How do they get through the dog days of humidity and and 90+ degree heat? Today, as I walked on my lunch break, with the thick heavy air and sweltering city sidewalks, wearing pants and a dress shirt (no jacket either!), my ass felt like this:





Hey. I'm BMS's ass. Hey, so, does it smell in here? It's me? Ya, that sounds right...



Swamp-ass. Get it? Seriously, you'd think at some point fashion in the workplace would have gone through evolution- I really don't know if I could physically make it if I had to wear a jacket today. Example- recently, going on an interview, I was in a suit and rushing to get there in 95 degree (with humidity) heat. I sweated clear through the jacket. Disgusting. I probably looked like a Greek short-order cook. Nothing I could do about it. It's so weird. I don't get society sometimes. (No, I'm not 15, but that sentence made it seem that way, huh?)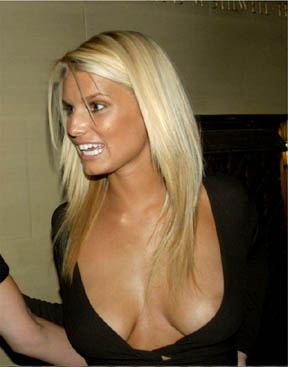 "I don't know, I just think it's cute he and his Dad both were President. Like the family business. I think it's cute."



Per Rolling Stone Magazine, Jessica Simpson is apparently a Bush supporter. Her people won't let her be overtly political (and it begs the obvious question what she could possibly know about EITHER candidate enough to support them- unless Bush secretly broadcasts his platform alongside old episodes of Full House), but she supposedly plans on performing one of his fundraising functions. I'd say that they were a match made in idiot heaven... but that would be too obvious. Bad Brains said it- "We gotta rock for light..."




Yesterday's Sox game was finished off by Curtis Leskanic and was punctuated by a really frightening few seconds- when trainer Jim Rowe, Terry Francona and pitching coach Dave Wallace darted out of the dugout to Leskanic's side. It looked like Curtis's shoulder- which has been held together with twine since season's start and is getting by only on cortisone shots- may have been injured. Turns out he wasn't.


Prior to entering the ninth inning of a 6-1 victory over the Detroit Tigers, Leskanic rubbed down his right shoulder with a mixture of ointments designed to warm and loosen the muscles. But by the time he got on the mound, his shoulder was burning so furiously that he couldn't stand it anymore.

In essence, he gave his shoulder a hot foot.

``I had too much stuff on (my shoulder). It was unbelievably hot,'' said Leskanic, who struck out two in a scoreless ninth. ``It was like, stick my arm next to a fireplace. I was sweating and it was going down, back under my arm. It was unbelievable. If I would have faced one more batter, it would have went into areas of my body I wouldn't want it to.''


Reminds me of May 22nd, 2002- the funniest injury in baseball history. From the May 22nd Washington Post:


"Coach, I can't play, I hurt my face."
Left fielder Marty Cordova was out of today's lineup after burning his face when he fell asleep in a tanning booth Tuesday. Doctors advised him not to remain in the sunlight for too long, and Hargrove said he might use Cordova as the designated hitter on Thursday.


The only thing funnier was the next day, seeing him run the bases with grill marks on his face. Unreal.


Gimme just one night- una PLAYLIST:


AC/DC- "Hells Bells"
Mission of Burma- "That's When I Reach For My Revolver"
The Breeders- "When I Was a Painter"
The Beatles- "I'm Only Sleeping"
Sonic Youth- "Candle"
Stevie Wonder- "Saturn"
Tenacious D- "Friendship Test"
Tenacious D- "Friendship"
Urge Overkill- "Sister Havana"
Velvet Underground- "Stephanie Says"
Chuck Berry- "Maybellene"
Death Cab for Cutie- "The New Year"
Elliott Smith- "Sweet Adeline"
Nirvana- "School" (live)
Queens of the Stone Age- "First It Giveth"
The Replacements- "Seen Your Video"
Rufus Wainwright- "Cigarettes and Chocolate Milk"
Sleater-Kinney- "Start Together"
The Strokes- "12:51"
Tom Petty- "The Waiting"
Urge Overkill- "Last Night/ Tomorrow"
Ween- "Cold Blows the Wind"
Weezer- "The Good Life"
White Stripes- "The Air Near My Fingers"
The Who- "A Quick One, While He's Away"
Wilson Pickett- "Funky Broadway"
Wu-Tang Clan- "Gravel Pit"
The Beatles- "Mailman, Bring Me No More Blues"
Beck- "Sissyneck"
Big Star- "Thirteen"
Bo Diddley- "Road Runner"
Built to Spill- "The Source"
The Clash- "Death or Glory"
Creedence Clearwater Revival- "Run Through the Jungle"
...And You Will Know Us by the Trail of Dead- "Relative Ways"
Bad Brains- "Rock for Light"
Black Sabbath- "War Pigs/ Luke's Wall"
Deftones- "Change (In the House of Flies)"
The Hives- "Abra Cadaver"
Leadbelly- "New Orleans (The Rising Sun)"
Melvins- "Lizzy"
Metallica- "One"
"Yo, isn't my wife hot?"



There are like, 15 funny things about this picture.



Finally, I've gotten well back on track in reading Ulysses. I've reached page 218, and it's all as a result of my current temp job being retardedly boring. Nice. 218/783.


The Calypso passage from Ulysses.


______________________________

|