Greg Maddux Wins 300th


In honor of Greg Maddux's 300th victory today in San Francisco, I am the box scores of some momentous games for Maddux. His first appearance, Sept. 3 1986, was actually in a game started on Sept. 2, one that was called after 14 innings to be resumed the next day with the score tied 4-4. In the 17th inning, the Astros managed 3 runs off of Dave Gumpert to take a 7-4 lead. In the bottom of the seventh, the Cubs miraculously answered, tying the game at 7. Rookie call-up Greg Maddux entered the 18th inning, and to the second batter he faced, Billy Hatcher, he surrendered what would be the eventual game winning HR. Maddux was the 17th pitcher used in the game played over two days. The starter that day for the Cubs was one Jamie Moyer. Maddux took the loss:


Houston Astros 8, Chicago Cubs 7
DayGame Played on Tuesday, September 2, 1986 (D) at Wrigley Field

HOU - 8 18 1
CHI - 7 12 0
Game suspended at the end of the 14th inning with the score HOU 4 CHI 4.
Completed 9- 3-1986.

Maddux L(0-1) 1IP 1H 1HR 1R 1ER 0BB 1K



Maddux's next appearance was an 11-3 win over the Reds on September 7th, 1986 in which Maddux started, completed the game, struck out 4, walked three, scattered 11 hits and surrendered 3ER for his first major league victory.


Chicago Cubs 11, Cincinnati Reds 3
DayGame Played on Sunday, September 7, 1986 (D) at Riverfront Stadium

CHI - 11 19 0
CIN - 3 11 1

Maddux W(1-1) 9IP 11H 1HR 3R 3ER 3BB 4K


Between September 2 2000 and September 28th of that same year, Greg Maddux went 40.1 innings without surrendering a run. Between a single run surrendered in the third inning against Houston on the 2nd to 3 runs given up on Sept. 28th, Greg Maddux did his job perfectly for 40.1 straight innings.

Perhaps Maddux's greatest game was on May 2, 2000. A complete game victory, Maddux surrendered only 2 hits, giving up no runs on one BB and 14 Ks, his career high. The Braves won 1-0.


Atlanta Braves 1, Milwaukee Brewers 0

DayGame Played on Wednesday, May 2, 2001 (N) at Turner Field
MIL - 0 2 0
ATL - 1 5 0

Maddux W(3-2) 9IP 2H 0HR 0R 0ER 1BB 14K


On May 11th, 1988, Maddux pitched a 10 inning complete game shut out, striking out 8 while walking none. The Cubs won 1-0.


Chicago Cubs 1, San Diego Padres 0

DayGame Played on Wednesday, May 11, 1988 (D) at Wrigley Field
SD - 0 3 2
CHI - 1 8 0

Maddux W(6-2) 10IP 3H 0HR 0R 0ER 0BB 8K


Maddux has 15 10+ K games, with 21 games at 9Ks. Finally, I'll include today, August 7 2004's boxscore and Maddux's line in the 8-4 victory for the Cubs over the San Francisco Giants, earning him his 300th win.


Chicago Cubs 8, San Francisco Giants 4
Day Game played on August 7th 2004 at SBC Park, San Francisco, CA

CHI - 8 12 0
SF - 4 11 3

Maddux 5IP 7H 0HR 4R 4ER 3BB 3K


Greg Maddux, the first NL pitcher to 300 wins since Steve Carlton, is arguably the greatest pitcher of his generation, and is still, when on, miraculous to watch. I will tell my grandkids one day I watched him pitch one night from the upper deck at Shea Stadium. Greg Maddux, 300-170 with 2,863 Ks and a 2.93 ERA (143 ERA+ career, 273 single-season high) in his career. Maddux has not won fewer than 15 games in 16 years (since going following a 6-14 year in '87 with an 18-8 season in '88) and is poised this year to continue the streak.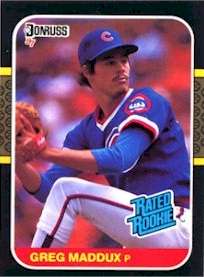 ______________________________

|