The Cyclone and the Cyclones- a Night on Coney Isle



If you're real quiet... you can actually hear my bones grinding down...



Went out with a friend to Coney Island last night to have a few runs on the great wooden coaster, THE CYCLONE, have a few Nathan's Famous Hot Dogs and see the Brooklyn Cyclones take on the Staten Island Yankees.

The Cyclone is a brilliant roller coaster- loud clacking, creaky wood, old style decorations. It costs $5 a ride, but interestingly enough, upon walking out of our first ride, one of the ride attendants- a man in no discernible uniform and sporting a cigarette- offered to let us ride again 2-for-$5. How do you pass that up?

Well you pass it up if you value your health, which clearly we didn't. The ride is fun- but PULVERIZING. At 6'4", I simply don't fit into the coaster's cars. So I was flying out of my seat during every ridiculous drop, only to come slamming back down again, battering a knee, shin and my back. The track never relents, either- no soft spots or places for breath. Just drop after brutal drop until you're shamed (either ego-wise or financially) into riding again. Good times.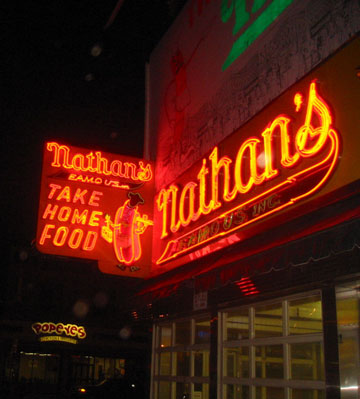 Next we got our dinner over at the Original Nathan's Famous Hot Dogs, home of one of the great hot dogs in human history, the July 4 hot dog eating contest, and some pretty underrated french fries. After a short walk on the boardwalk and a look in at a favorite Coney Island attraction, "Shoot the Freak" (wherein participants are given paint balls and allowed to shoot at a real person running around open grounds), we poneyed up and got our dinner. Behind a group of the most obscenely cliched human beings- New York City Brooklyn men- I've ever witnessed. 24 hot dogs for 6 guys, for the record. Youse woulda been amazed.





A view from our seats... the luscious honeys NOT included...



Finally, we headed over to Keyspan Park- just down the boardwalk from Astroland and Nathan's- to see our game: the Brooklyn Cyclones versus the Staten Island Yankees. First off, Keyspan is a beautiful park. Bright, vibrant, neon, clean and wide-open- it has nice wide concourses, great sightlines, and cheap, excellent bleacher seats. You can come in off the street, or right off the boardwalk. You can smell the salt air from your seat while watching a game. Good stuff. One thing though- the commercials on DiamondVision between innings is RIDICULOUS.

The game started as a pitcher's duel, but evolved into the Ambiorix Concepcion Show. A big 3 run HR, playing right in front of us in the bleachers, stealing a base- he's my favorite Cyclone. Easy. Cyclones win, 7-3. Here's Ambiorix's 2004 season for the Cyclones so far:


AMBIORIX CONCEPCION, RF #27


.321 AVG
.355 OBP
.513 SLG
187 AB
29 R
60 H
96 TB
9 2B
3 3B
7 HR
40 RBI
10 BB
37 SO
23 SB


The trip back was brutal though. I hate loud people on subway trains. You gotta love Coney Island though.


...playlist...


The Rolling Stones- "Let It Bleed"
Rufus Wainwright- "California"
Slayer- "Piece by Piece"
Stevie Wonder- "Don't You Worry 'Bout a Thing"
The Stooges- "No Fun"
The Strokes- "The End Has No End"
Talking Heads- "Artists Only"
Tom Petty- "The Waiting"
Van Morrison- "Everyone"
Velvet Underground- "Oh! Sweet Nuthin'"
Ween- "Cold Blows the Wind"
White Stripes- "The Air Near My Fingers"
Wilco- "Ashes of American Flags"
Wilson Pickett- "In the Midnight Hour"
Wu-Tang Clan- "Triumph" (f/ Cappadonna)
The Hives- "Walk Idiot Walk"


______________________________

|