Among Other Things: NEW INTERPOL SEPT. 28th!!


Check this out- a webcam of Fenway park which allows you to do 24 hour time lapses from anywhere at 5 min. frame rates to one hour frame rates. REALLY really cool.




...just in case you were wondering what Johnny Damon's (possibly cross-eyed) girlfriend and Tim Wakefield's wife look like. More on Damon later in the column (as a tribute to the Broseph...)





More like..."Turn on the AWESOME FUCKING CD Lights"...



As the post title suggests, indeed- NEW INTERPOL SEPTEMBER 28TH! PER THE BACKPAGE AD IN THIS MONTHS SPIN!!! (and Pitchfork.) Of course you know their debut, Turn on the Bright Lights was one of the great debut rock albums of the last 20 years, and that anything put forth by the NYC quartet shall heretofore be given "PT Anderson/ Radiohead" status- as in, the day it fucking comes out, mofo. I CAN'T wait.

Speaking of the new issue of Spin Magazine, I was greeted to it in my mailbox today, and the cover kids?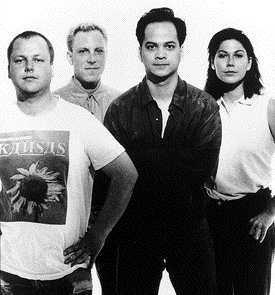 Only the greatest, most criminally underrated band in the history of the universe- the band that co-saved my life, and who has not recorded a song that wasn't anything but worthy of the highest highs of praise. THE PIXIES. I can't yet link to Mark Spitz's BRILLIANT article, "Life to the Pixies," but please go buy the issue of Spin. The article is an oral history of the band, much like the chapter devoted to the group in Michael Azzerad's un-fucking-believable Our Band Could Be Your Life. Spin does this a lot, and it's always a tremendous read. Finally, it's worth noting that the Pixies have an iTunes- exclusive new song, "Bam Thwok," which I will soon be downloading and enjoying. If you don't know the Pixies- you don't know anything.

There's a great site from a guy named Craig Robinson- he, among other things, takes rock bands/ celebrities and turns them into little Mac-like icons. They're called "Minipops." He has a collection of them in book form as well, and his site, "www.flipflopflyin.com" is really fun to fart around. Check some minipops out:


That's: Tenacious D, ABBA, AC/DC, Dr. Evil & Mini-Me, B-52's, Batman, Beach Boys, Beavis & Butthead, Big Lebowski, James Brown, Mel Gibson (ha!), Clockwork Orange, De La Soul, Devo, Edward Scissorhands, Ghostbusters, MC Hammer, Knight Rider, John and Yoko, Nirvana, Pablo Picasso, Cornelius (Planet of the Apes), Iggy Pop, Public Enemy, The Ramones, Run DMC, Max Fischer (Rushmore), Seinfeld, Simpsons, Spiderman, Spinal Tap, C3PO, Darth Vader, Chewbacca, Yoda, Han Solo, Luke Skywalker, Obi Wan Kenobi, Teen Wolf, Velvet Underground, The White Stripes, Hank Williams, Wu Tang Clan, ZZ Top, Bert & Ernie


Hi. I'm Johnny Damon. I'm the best leadoff hitter in baseball, and I'm probably the least appreciated superstar on the 2004 Boston Red Sox. Why, you ask? Here's why, fuckface-

I lead AL CF in OPS, OBP, SLG, R, H, RBI
I am second among AL CF in HR, AVG, 2B, 3B, BB, and I am 3rd in SB.

I am, save Torii Hunter, the second best defensive CF in the AL range-wise. My line of .302/ .380/ .468/ .848 cements this as my best season in Boston so far, and I'm doing it while being a catalyst to the offense... and the coolest looking guy with a beard since, well, ever.





"We love you Johnny!"
"Yeah, thanks! The meek shall inherit the Earth!"



The fact that a baseball player today has long hair and a beard deserves your respect, to say nothing of his season at the plate that makes him, behind Manny Ramirez and David Ortiz, the 3rd best hitter in a lineup of great hitters. I, for one, LOVE watching him play every single night and I think you should too. It's corny, but it's true. He's nails.

That was for you, Broseph.

Here's a little laundry list of video games coming out soon tha are going to drain Bullshit Memorial's funds from fall on through '05.


Star Wars: Revenge of the Sith (not til '05- supposed to be diesel)


NHL 2005


Teenage Mutant Ninja Turtles 2 (you can also unlock the old arcade game, which I grew up playing)


X Men Legends


Tony Hawk Underground 2


Oh ya, and... Grand Theft Auto: San Andreas






A really cool picture of Eric Gagne, who, as it turns out- has just screwed the pooch against the Marlins for his second blown save... in his last 100 tries. Don't give me this Mariano Rivera/ John Smoltz/ Keith Foulke/ Joe Nathan crap. Eric Gagne. Reck-a-nize.


Thuh Playlist...


Outkast- "Roses"
Pavement- "Spit on a Stranger"
Pharcyde- "Passing Me By"
The Pixies- "Rock Music"
PJ Harvey- "Oh My Lover"
Prince- "Uptown"
Public Enemy- "Fear of a Black Planet"
Queens of the Stone Age- "In the Fade"
REM- "Untitled" (hidden song from Green)
Radiohead- "Karma Police"
The Replacements- "IOU"
Sex Pistols- "Holidays in the Sun"


______________________________

|