Appreciating the Greatness of Tim Wakefield

Tim Wakefield was on tonight. 7 IP, 3H, 1BB, 0ER, 6K. No significant threat, and one ball all night was hit hard (Scutaro's opposite field ground-rule 2B). I sat there, enjoying not just the 11 run outburst, but the epiphany I reached while watching Tim Wakefield. The epiphany goes as follows:

When he's on, Tim Wakefield is just as fun to watch as Pedro Martinez and Curt Schilling. No doubt.




Tim Wakefield has been a major league pitcher since 1992- 92 and 93 with Pittsburgh, 94 out of baseball, and 95 on with Boston. Since joining the Red Sox, Tim has gone 112-89 with an ERA around 4.25. He has pitched effectively as a starter, as a reliever and even as a closer (15 saves in 1999). Most enjoyably though, has been just watching Tim pitch.



Wake has been a dependable, great pitcher for the Sox in his years on the team-- his best year, 2002, he sported an ERA of 2.81. When he's on like he was tonight, he is just as baffling as a Pedro changeup, a Curt Schilling splitter. When he is on, he is in control of the seemingly random and uncontrollable- the knuckle ball. His great nights (think 2003 ALCS) show a painter's touch with the knuckler- flicking it up, away, inside. When it's bad, it is tremendously bad. Wakefield readily admits that there are days in which he isn't "feeling the ball well."

But these days are few and far between, mostly because Wakefield, even when struggling, is masterful at keeping the Sox in games.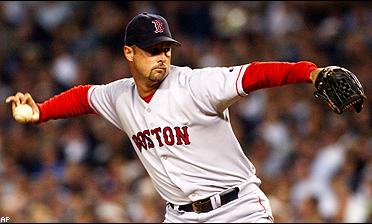 His arm crooked as though he were aiming a dart, the fingers nubbed on their callouses and resting on the seams, waiting to float the ball to the chance of wind and gravity. Wakefield has Bugs Bunny stuff- he certainly blows nothing by a hitter, but instead let's a cartoonish break on the ball constantly keep hitters guessing- the textbook definition of "frustrating" a batter.




______________________________

|