Red Sox Injury UPDATES
From Rotoworld:


Bill Mueller - 3B - Red Sox

Bill Mueller (knee surgery) will began a rehabilitation assignment Monday at Triple-A Pawtucket.
He remains on target to return to the Red Sox lineup the first week in July. Jun. 25 - 6:45 am et Source: Boston Herald


This is good news for the Sox- if Mueller can get on base like he did last year and provide some pop, he certainly doesn't need to even win the batting title. In fact, in all honesty, if he just hits like Mark Bellhorn, he'd be more than fine- but he'll hit better than that. Unfortunately, I think this might spell the end of the Kevin Youkilis era for the time being in Boston. You shouldn't hurt his development sitting on the bench on the big club. They should send him down- where he may be either traded or called up in September. He's been more than we could have ever hoped, though.


Ellis Burks - DH - Red Sox

Ellis Burks (torn cartilage in left knee) could start a rehabilitation assignment as early as next week.
The swelling in his knee has subsided, and Burks is itching to return to his duties as the Red Sox part-time DH. Burks may need only a short stint in the minors to get into game shape as he will not have to concern himself with fielding issues. Barring a setback, he should be activated off the disabled list before the All-Star break. Jun. 25 - 6:34 am et Source: Boston Globe


This is huge as well- one of our biggest weaknesses right now is lack of bench depth. Our best bat off the bench is Mirabelli right now, so Francona is loathe to burn a catcher lest one get hurt (an overrated concern of course). So, we've been going to McCarty or Kapler late in games. Exactly. Hopefully, Burks will take some ABs from Millar against lefties. That can only help.


Curt Schilling - SP - Red Sox

Curt Schilling (bone bruise in right ankle joint) was able to throw fastballs in the bullpen yesterday without any medication for the first time in almost six weeks.
His ankle seems to be getting better. When healthy, there is no doubt Schilling is one of the best pitchers in all of baseball. Jun. 25 - 6:29 am et Source: Boston Globe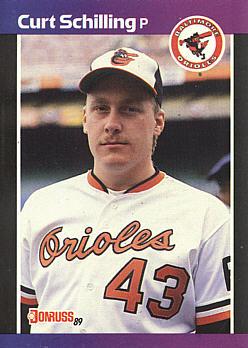 This, obviously, would have been devastating for the Sox. He has been our best and most consistent starter this year (though not as much better than Pedro as you may guess). If his ankle is progressing as clearly as it seems to be, he will be dominating longer in games, saving our bullpen even more and winning us a lot more games. Hopefully the relative thrift in innings thus far (relative to his norm) will extend him for the rest of the year. Either way, this may be the best news of all.


Pokey Reese - SS - Red Sox

Pokey Reese (sprained left thumb ligament) felt much better yesterday after receiving treatment.
He will not need to be disabled, and there is a chance he could play Sunday against the Phillies. Jun. 25 - 6:22 am et Source: Boston Globe


Despite my insistence that he NOT start (which is blatantly obvious and something I obviously stand by), we do need Pokey healthy and available. One of the keys to this team's run, in my opinion, is keeping Bellhorn, Garciaparra, Mueller and whomever Reese can cover for well-rested all season and with good legs come playoff time. Though an offensive black hole- Pokey gives us THAT option, added defense on Derek Lowe starts, and good late inning defense where needed. He shouldn't start- but to see him healthy is great news. They say it will only effect his hitting- I'm guessing I won't notice much.

Finally- a few quotes on Manny's catch from tonight:


"I just went out there and I just went hard for the ball and I said, 'Well, just going to dive right here.' And I got lucky and I caught it," Ramirez said.

"It was a great play," Boston starter Pedro Martinez said. "One of the best I've seen from an outfielder. I did not think he had a chance whatsoever."

"He's the best right-handed hitter in baseball," Kevin Millar said. "You know he can hit, but when he starts making web gems, we've got issues."



You can totally tell Pedro gets the biggest kick out of Manny as a person. But really- how can you not?

Tell me you do not love this man. I LOVE this man.


______________________________

|